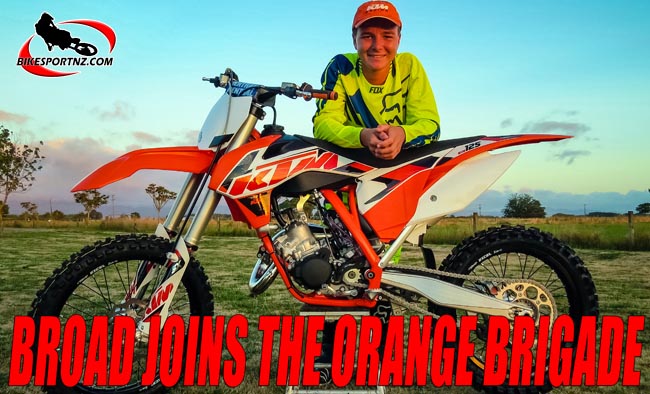 There are set to be some exciting times ahead for the orange brigade.
Ngatea's Ben Broad has been making a huge impact on the national motocross scene in recent months, enough to attract the attention of the high-profile CMR Red Bull KTM team.
And so, when discussions developed with CMR Red Bull KTM Team manager Cannon Smith with a view to Broad joining his squad, the men in the distinctive orange livery were only too welcoming.
Broad raced to victory in both the 15-16 years' 125cc class and the 14-16 years' 250c class at the big annual New Zealand Motocross Grand Prix at Woodville during junior action on Saturday and then backed that up by also finishing third overall in the senior 125cc class the following day – that senior class won by CMR Red Bull KTM's national champion rider Josiah Natzke.
Hamilton's Natzke is soon due to head overseas to race in the eight-round EMX 125 European Championships, beginning in Italy in April, and that leaves a void in the New Zealand team that Broad is expected to fill.
"I will really be just a satellite rider for the CMR Red Bull KTM squad at the moment, while most of the team focus remains with Josiah while he races both the 125cc and MX2 classes at the nationals. But, from the time of the junior nationals (at Otorohanga in April), I will be fully on the team," said the 16-year-old Broad.
"I will be tackling the senior national 125cc class (starting at round one in Taranaki in just over a weeks' time), with Josiah also racing to defend his title in the class. I turn 17 in November and will be tackling the senior 125cc class again in 2016, but as the team's official 125 rider.
"I'm pretty excited to be a part of a team. With what they can provide for me, I really have a good chance of doing well.
"I am riding really well at the moment. Everything is coming together and I think you can see that by my results."
Broad picked up his new KTM 125 this week and will be riding it as much as he can to prepare himself for the opening round of the senior New Zealand Motocross Championships in New Plymouth on February 8.
CMR Red Bull KTM team boss Smith said he was naturally thrilled to welcome aboard a rider of Broad's strength.
"We looked at who had been doing well on a 125 and could see this was an opportunity for him to develop further with us. This is a continuation of our policy of nurturing young talent," said Smith.
In addition to Broad joining the squad, further changes to the squad's structure are also in the wind, with junior 85cc rider Maximus Purvis, of Mangakino, soon to move up to the junior 125cc spot and Matamata's Brodie Connolly becoming a member of the CMR Red Bull KTM squad and moving in to the 85cc position that Purvis vacates.
© Words by Andy McGechan, www.BikesportNZ.com
© Photo by Isaac Broad, www.BikesportNZ.com
Find BikesportNZ.com on FACEBOOK here