The motorcycle road-race season is coming together nicely for Bay of Plenty ace Duncan Hart.
The 38-year-old workshop manager from Tauranga leads the super moto class after two of three rounds of the popular Suzuki Tri Series and is ideally positioned to wrap up the class overall at the third and final round of the series on the public streets of Wanganui on Boxing Day, racing around the famous Cemetery Circuit.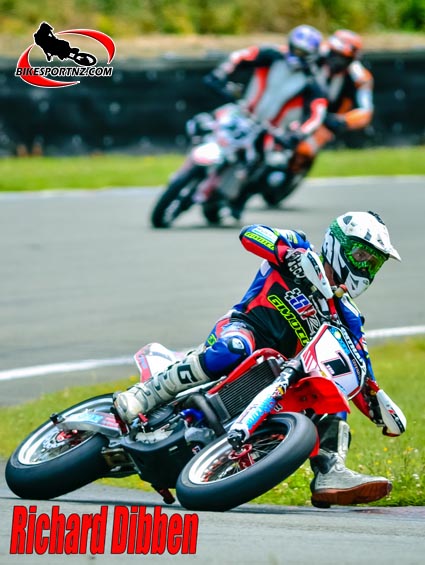 Hart is an extraordinarily talented rider and his modified Yamaha YZ450F is obviously a very potent weapon, but luck has also played a part in putting him in the prime position this season.
Last season's super moto class winner, Wanganui's Richard Dibben, had been leading the series after finishing 2-1 in the two super moto races at the opening round at Hampton Downs just over two weeks ago, with Hart finishing 1-3 – after crashing in race two – and he therefore trailed Dibben by three points as the riders arrived at Manfeild for round two.
Hart finished runner-up to Dibben in the first race at Manfeild, but then it was Dibben's turn for some bad luck when he crashed in race two, remounting to claw his way back to third position, while Hart again finished runner-up, this time behind Reporoa's Casey Bullock.
However, under the rules of super moto racing, riders are not permitted to rejoin the race after crashing and so Dibben was disqualified, adding controversy to the contest because Hart had not been disqualified for rejoining after his spill at Hampton Downs a week earlier.
The two race tracks are very different and riders disappear from view in several parts of Hampton Downs, Hart's crash going largely unnoticed, while the open-plan nature of Manfeild meant Dibben had nowhere to hide.
The Hampton Downs incident involving Hart was not picked up within the 20-minute time-frame allowed for protests and he therefore escaped any penalty.
"Exactly the same thing happened last year when Richard Dibben crashed at Hampton Downs and it wasn't spotted by the officials. It went in his favour on that occasion," Hart explained.
So, with it being a case "swings and round-abouts", Hart now finds himself nine points ahead of new No.2 ranked rider Aden Brown, of Wanganui, and in the perfect position to claim the series outright … provided he can avoid trouble on the Cemetery Circuit on Boxing Day.
"I love racing at Wanganui. I was 10 points behind Richard (Dibben) heading into Wanganui in 2012 and, even though I qualified fastest and won both of the races that day, I eventually missed out on the title by two points.
"I couldn't contest the whole series last year because of injury, so to be leading the series going to the final round this year is fantastic for me.
"I have been racing super moto for seven years now and if I can win this it will be my greatest achievement. That's the aim anyway."
Hart is supported by Mimico, Gull, The Equipment Centre, Endeavour Engineering, ENZED and Bayride Motorcycles in Tauranga.
© Words and photos by Andy McGechan, www.BikesportNZ.com
Find BikesportNZ.com on FACEBOOK here