TOMAC DOMINATES IN FRANCE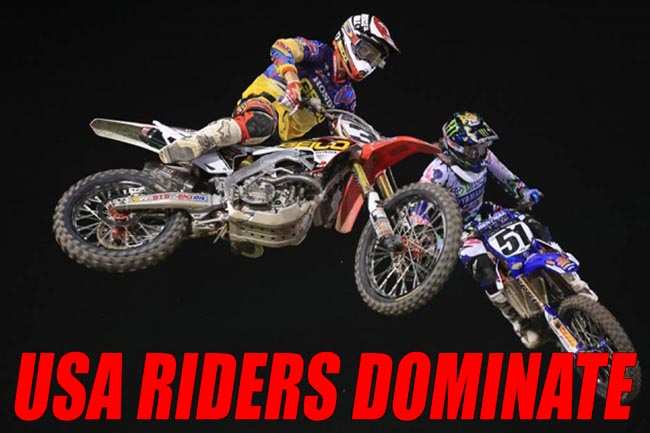 American Eli Tomac will probably remember forever his first visit to the north of France, as he won everything at the Paris Lille Supercross to become the first 'King of Paris Lille' at the weekend.
The United States dominated the event as American rider Justin Barcia and Malcolm Stewart finished second and third, allowing them also to claim the team's win.
Riders, spectators and the media all showed enthusiasm for this new venue, as the Paris Supercross moved to Lille while Bercy is being renovated and could not host the main European SX event.
And this event had the same huge success in the north of France that it enjoyed in Paris, as 43,000 spectators came in the Pierre Mauroy Stadium to see in action some of the best world SX riders.
Tomac had a lot of fun on his factory 450 Honda, especially shipped from US; he fastest rider in all the practice sessions and winner of all the races.
Tomac dominated his rivals and nobody was able to challenge him.
Barcia was much stronger on Sunday than on Saturday and finally beat Stewart to finish runner-up behind Tomac.
The French riders were unable to race for a win, and it was veteran Fabien Izoird who was the best with a fourth place overall, between Stewart, Josh Hill and Weston Peick. Best French performer, with a second place in the first race on Saturday, was Christophe Pourcel although he wasn't so strong on Sunday after his crash.
Dylan Ferrandis was the hero of the fans on Sunday, as he came back in the last race from last to finish fourth. This last race was not the best one for French MX2 world champion Jordi Tixier, who couldn't enter this race and lost his fourth overall when his engine failed to start.
Dominating the SX2 class, Maxime Desprey won the four SX2 races of this weekend for his comeback to Supercross. Second was Thomas Do and third was British rider Ben Watson.
All the results available on: http://www.supercrossbercy.com
King of Paris Lille:
1. Tomac (USA, Honda), 4 pts; 2. Barcia (USA, Yamaha), 15; 3. Stewart (USA, Honda), 16; 4. Izoird (FRA, Honda), 26; 5. Hill (USA, Kawasaki), 28; 6. Peick (USA, Yamaha), 28; 7. Tixier (FRA, Kawasaki), 28; 8. Ferrandis (FRA, Kawasaki), 29; 9. Pourcel (FRA, Kawasaki), 35; 10. Soubeyras (FRA, Kawasaki), 35.
Classification inter-nations:
1.USA, 13 pts; 2. France, 39 pts.
Prince of Paris Lille:
1. Desprey (Kawasaki), 4 pts; 2. Do (Honda), 9; 3. Watson (GBR, KTM), 18; 4. Sallefranque (Honda), 18; 5. Fegli (Kawasaki), 24; 6. Aubin (Suzuki), 25; 7. Irsuti (Yamaha), 26; 8. Roptin (KTM), 33; 9. Lozzi (Kawasaki), 37; 10. Marronne (Suzuki), 39.
Photo courtesy Bercy media
https://www.youtube.com/watch?v=-zEl3d20WBA&list=UUA8XHlJPNLIGXz0FHJP8F6Q&index=3
https://www.youtube.com/watch?v=fK4LiFg7fxI&index=2&list=UUA8XHlJPNLIGXz0FHJP8F6Q