SUZUKI SERIES LOOMS LARGE
The starting grids are filling rapidly as excitement builds for the upcoming annual Suzuki Series, the traditional kick-off to the New Zealand motorcycle road-race season.
The popular three-round series – at Hampton Downs on December 7, Manfeild a week later on December 14 and finally on the public streets of Wanganui on Boxing Day – has already attracted its biggest ever line-up of riders, including the largest number of international superstars ever entered for a series in this part of the world.
It means series organiser Alan 'Flea' Willacy may have a problem this year – where does he fit everybody?
"It's a nice problem to have, but, to be honest, the more the merrier," he laughed.
The list of riders arriving from overseas includes championships from Britain, the Isle of Man, Germany, Japan and Australia, all keen to lock handlebars with Kiwi internationals such as Suzuki's national superbike champion Dennis Charlett, of Christchurch, Wellington's Sloan Frost, Auckland's Jaden Hassan, Whakatane's Tony Rees, New Plymouth's Hayden Fitzgerald, Taupo's Scott Moir, Orewa's female superstar Avalon Biddle, Auckland teenage talents Daniel Mettam and Connor London and Wanganui heroes Jayden Carrick and Richard Dibben, to name a few.
Flamboyant British racer Guy Martin returns to race the final round of the series at the Cemetery Circuit, no doubt sure to delight again as he shows off the skills that have made him a legend at the notorious Isle of Man races over the past few years, although he'll have his work cut out lining up against German Superbike Champion Horst Saiger, among others.
Saiger, from the Principality of Liechtenstein, bordered by Switzerland and Austria, is a world class competitor. He holds the 1000cc superstock lap record at the North West 200 (in Ireland) and finished third in the FIM World 24-Hour Endurance Championship earlier this year.
Isle of Man rider Billy Redmayne – the 'newcomer' record holder at the Isle of Man – arrives to contest a Suzuki in the Formula Two 600cc class, where he will come up against talented Japanese pair Toshiyuki Arakaki and Akashi Kohno.
A third Japanese rider, Kishimoto Yoshi, will tackle the Formula Three class, facing off with British women's champion Maria Costello. Costello will also race a KTM690 in the Bears (non-Japanese bikes) class.
Linden Magee spearheads the Australian contingent that includes Aidan Hopkins, Rennie Scaysbrook and popular father and daughter pair Phil and Sophie Lovett.
With races for Formula one (superbikes), Formula Two (600cc), Formula Three, Bears, Pre-89, super moto and sidecars, the programme at all three rounds of the series is bulging to capacity.
Top sidecar pairings include last year's Suzuki Series champions Adam Unsworth and Stu Dawe, from Auckland, Masterton's national champions Spike Taylor and Astrid Hartnell, Waikato's Aaron Lovell and Tracey Bryan, Wanganui's Corey Winter and Tim Shepherd and Northland pair Peter Goodwin and Darren Prentis, to name a few.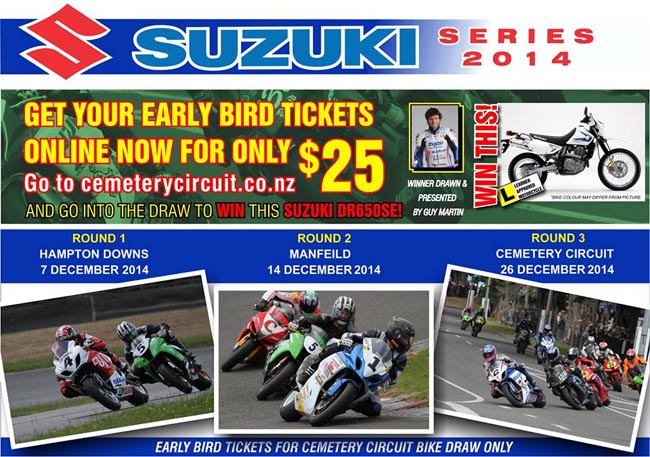 "It's going to be a huge series," enthused Willacy. "Instead of just confining themselves to race one event only, perhaps just the final round on Wanganui's Cemetery Circuit, many of these international riders have this year signed up to race the entire three-round series."
With former series winners Andrew Stroud and Nick Cole now retired from racing, it throws the F1 competition wide open, although national superbike No.1 Charlett, the series winner in 2012, perhaps rates as favourite this season.
"I know Dennis Charlett is very determined to win the Robert Holden (memorial feature race) trophy before he finally hangs up his helmet and boots, but Guy Martin is also keen to take it away," said Willacy.
"Jayden Carrick has now stepped up to the 1000cc Suzuki superbike and he's already on a winning pace, so the competition is looking very hot indeed."
© Words and photos by Andy McGechan, www.BikesportNZ.com
Find BikesportNZ.com on FACEBOOK here