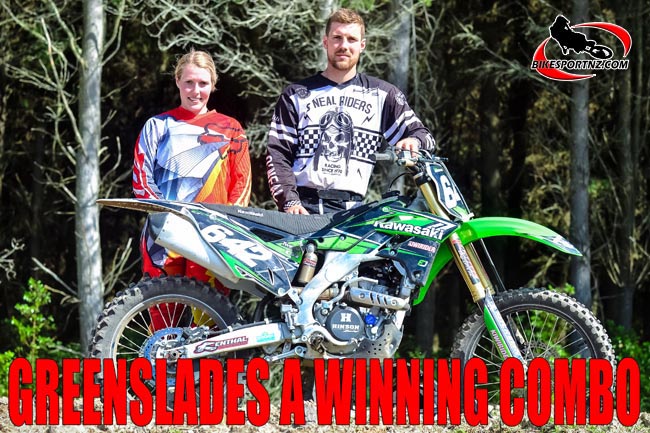 Auckland's Julie Greenslade reckons she was "the last resort" when her elder brother Sam went hunting for a team-mate to tackle a recent cross-country marathon, but his choice of co-rider eventually turned out to be a winning one.
The two shared the riding duties at the popular annual Acerbis Four-Hour Cross-country dirt bike race near Taupo earlier this month – taking it in turns to ride Julie's pristine 2014-model Kawasaki KX250F – and they ended up winning their class.
The siblings from Coatesville finished the event 12th overall out of the nearly 200 entries, good enough to win the "mixed (male and female) class".
"We finished 10th in the teams' category and, in fact, if we had entered the small bore teams' class as well, we would also have won that," said the 21-year-old Julie, a university student.
Instead, the small bore team class was won by fellow Kawasaki KX250F riders Jason Dickey, of Raglan, and Ryan Metz, of Auckland, who finished the race just behind the Greenslade pair, in 13th spot overall.
"I've been racing dirt bikes for about 10 years now, but usually I'm riding as an individual and this was the first time I have teamed up with my brother.
"I reckon he felt I was his last resort, when he couldn't find anyone else to team with," she laughed.
"He wasn't sure whether he'd ride the event solo or join up with someone else … I'm glad he chose to go with me in the end. He's one of the best team-mates I've ever had and it was fun riding with him.
"The bike was set up more to suit Sam, so the suspension settings were a little bit stiff for me, but I coped okay."
Off-road motorcycle racing can be a brutal and very physically-demanding sport, but it's very much her passion.
"I get a bit scared sometimes when I ride. It's the worry about knowing you can hurt yourself if you get it wrong. I'm not very confident doing jumps, so motocross worries me a bit, but I shut it out of my mind when I'm racing. I do love the sport. It's so exciting.
"I'd certainly encourage other women to give it a go, perhaps consider going on trail bike rides and progress from there."
She doesn't know what her next event might be but, if the opportunity comes up again to co-ride with her big brother, that's a leap of faith she'd take confidently.
© Words and photos by Andy McGechan, www.BikesportNZ.com
Find BikesportNZ.com on FACEBOOK here