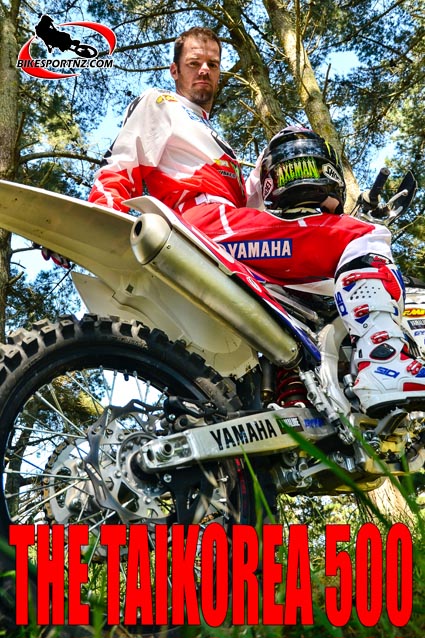 New Zealand's Paul Whibley may have just last week signalled his retirement from international motorcycle racing, but that doesn't mean it's time for a rocking chair, pipe and quiet, wistful nights watching the sun go down.
Whibley has achieved plenty on the international motorcycling scene over an action-filled past dozen or so years, but now, at age 36, the Kiwi hero has packed up his belongings and headed home from his South Carolina base to settle back in the Manawatu region.
And while Whibley won't be racing bikes as much as in the past, certainly not on an international stage, there will be no rest for him, in the short-term at least, because he will still be working within the sport.
Whibley will "put something back" as he again turns his attention to the task of organising the annual Yamaha Taikorea 500 race, set for this coming weekend.
This Saturday (November 22) will be the third time that Whibley has opened up his private practice property at Taikorea, on the outskirts of Palmerston North, for the novel four-races-in-one event. The occasion is again expected to attract some of the elite of New Zealand off-road bike racers, all of whom will be going head-to-head in a rip-fire four-race format that features two back-to-back one-hour endurance races and two 10-minute sprint races as well.
Although still only a fledgling competition, it's a race that seems to be quickly growing in popularity and each time it has offered up plenty of drama.
The unthinkable happened at the Taikorea 500 last season – a rider who now described himself as semi-retired, with no build-up events under his wheels in the preceding months, showed up with old technology and won the event for a second time.
Marton sheep and beef farmer Cam Smith won the inaugural Yamaha Taikorea 500 in 2012 and he surprisingly repeated the feat last year, riding exactly the same Yamaha YZ450F bike he had used 12 months earlier.
It certainly raised eyebrows because, with the event rapidly growing in stature, t
he entry list featured some of the cream of New Zealand's off-road riders, current and former national champions among them, and so it was certainly always going to be harder for the then 37-year-old Smith to win it a second time around.
The question being asked now is can Smith make it three in a row this weekend?
Each race at the Taikorea 500 offers $100 in prizemoney, with an extra $100 prize on offer to any rider who can manage to win all four races.
"Last year's super finals provided some great spectator viewing and the racing action was intense right to the finish line," said Whibley.
Whibley is supported by Yamaha Motor New Zealand, AmPro Yamaha, Monster Energy, Shoei, Sidi, Smith, MSR G2, Asterisk, Moto SR, Vortex Ignitions, EC3D, Bush Riders MCC, Spectro, Acerbis, DID, JT sprockets, Leatt, Kenda, Sargent Motorcycles, Yamaha NZ, Bikesportnz.com, Unibiker and Tire balls.
© Words and photo by Andy McGechan, www.BikesportNZ.com
Find BikesportNZ.com on FACEBOOK here