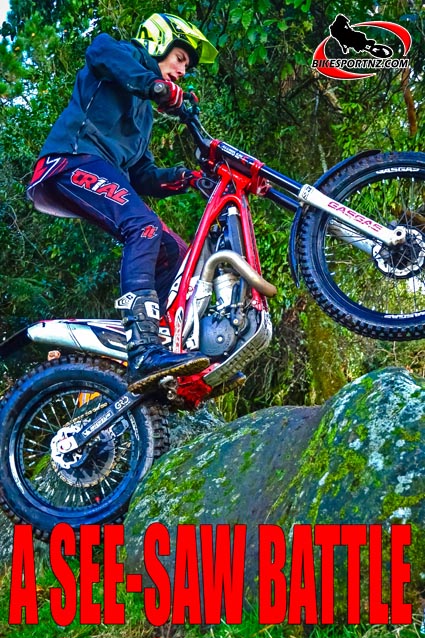 A gripping see-saw battle between two international superstars was the main talking point of the New Zealand Moto Trials Championships near Nelson over the Labour Weekend.
World No.13 Jack Sheppard, from England, had the rare skills needed to halt seven-time consecutive New Zealand Moto Trails Champion Jake Whitaker in his tracks at the three-day event, even though he didn't have everything go his way at the MTF Nelson-sponsored event.
But, by winning two of the three days and finishing runner-up to Kiwi legend Whitaker on the other day, the visiting hero from Ipswich did enough to steal away with the trophy.
With his impressive string of recent successes, the 23-year-old Whitaker was obvious favourite to win the top prize at the weekend, but he also knew he would face his sternest test yet when he learned that world class rider Sheppard was making the trip Downunder.
"Jack won day one and I won day two, but it was a much tougher course on Monday and Jack was just too good for me there," said Whitaker.
"I was happy enough with my riding over the weekend but, obviously, I'm still disappointed not to win.
"Jack Sheppard is a fulltime professional rider, and among the best in the world, so I knew it was going to be difficult to beat him."
Motueka's Daniel Clark was able to successfully defend his Intermediate grade title, winning for a second year in a row from David Trewin – the Kaikoura man who was also runner-up last season – with Ashhurst's Kevin Pinfold claiming third place.
It was business as usual also in the Junior and Presidents' grades, where the champions from 2013 both managed to defend their respective titles.
Tauranga's Jacob Gundry retained his Junior grade crown, while Nelson's Stephen Oliver was similarly dominant in keeping his Presidents' grade title.
But there were changes at the top of the A Grade, Clubmans', Twin-Shock and Women's divisions.
Nelson's Peter Oliver won the A Grade ahead of Howick's Liam Draper and Wellington's Carl Robson. Draper was also runner-up in this class last season, on that occasion finishing behind the class-hopping Gundry.
Marlborough's Keith Ruthven became the new champion in the Clubmans' grade, finishing the weekend ahead of Blenheim's Gareth Wadsworth, while Christchurch's Paul Jackson won the Twin-Shock division.
Tauranga's Gabby Gundry had to give up her Women's grade crown, settling instead for second place behind new champion Stefanie Downes, of Christchurch.
© Words and photo by Andy McGechan, www.BikesportNZ.com
Find BikesportNZ.com on FACEBOOK here