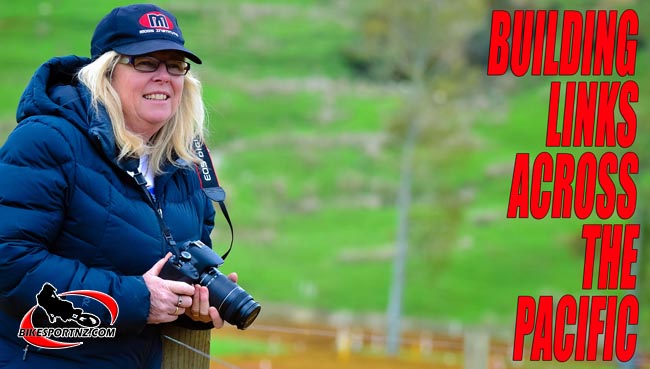 MX Antix is making waves in the motocross scene, both here in New Zealand and now in the United States as well.
Founder Robynne Watson (pictured here) talked to BikesportNZ.com about what has been happening in the past few months and where the group is heading as a kind of cross-pollination happens between young riders in both countries.
"Just over 12 months ago, I invited five-year-old Kyle Born from Pennsylvania, in the USA, to come and race the 2013 NZ Mini Nationals, riding under the MX Antix banner," Watson explained.
"His mum, Erika, moved 'heaven and earth' to raise $7000 US dollars in two-and-a-half months for the family to come over and race here. Her husband Dave had said they could go, as long as they didn't dip into their personal savings. Kyle and our youngest team rider Cole Davies raced each other at the Mini Nats with Cole taking the overall title and Kyle coming in fourth equal.
"It was a very successful trip and they got to meet all of our other team riders – Ryan Webley, Kase Pullen-Burry, Brodie Connolly, Ethan Watkins, Jesse Te Kani and Sarah Elwin. We now have Hayden Kanters as a team rider."
Elwin and Kanters are also BikesportNZ.com riders.
"The whole American side of MX Antix came about when Erika and I were chatting about business when she was here and what she could contribute to setting up an MX Antix USA team.
"Erika is such a go getter and within weeks she had five young riders for the team and about a dozen sponsors including Arai Helmets, Twin Air, Motocrossvest, My Lucas Oil and lots more. From there it has grown a lot faster than we expected. We now have over 18 sponsors and support from all over America, with big plans evolving rapidly.
"Our team riders over there are six-year-old Kyle Born, nine-year-old Ayden Beckage, 13-year-old Jack Rogers, 16-year-old Cameron Dowell and 17-year-old Kenny Vernarchick. Most of the boys are home schooled and they and their families travel long distances every weekend to race on the east coast at the bigger events.
"Erika formed her own company – Born Media Group – and now sponsors a team of riders, as well as doing all her work for us too.
"I was lucky enough to spend a week at Loretta Lynns this year with the American team as three of our riders were racing. When you talk with the Americans about NZ, they all say they would love to visit our country and I figured that a little bit of hospitality doesn't cost a lot – so Erika and I invited three teenage riders to come out to race the MX Fest in Taupo over Labour weekend.
"With the generosity of our NZ team riders who have supplied them with bikes to ride – our USA team rider Cameron Dowell and two of Born Media Group's riders, 14-year-old Gage McBee and 12-year-old Ezra Parker, will fly in next weekend with their parents to race in NZ and see our beautiful country. This is not about winning but experiencing racing in a different country and meeting new people. Broadening their horizons!
"What comes from this is the opportunity for some of NZ's young riders to experience racing in America. When I profile riders for our magazine, I ask the question – Where do you see yourself in five years time? And the answer is always "racing in America", so with the contacts we now have over there, young NZ riders dreams will become reality. Which is what is happening for one of the MX Antix NZ riders – 15-year-old Tyler Steiner – who is heading over in a month's time to race the Mini O's competition in Florida – and I am lucky enough to be travelling back to the USA with him, where we will link up with all the USA team.
"It will be six days of SX & MX on steroids."
© Photos by Andy McGechan, www.BikesportNZ.com
Find BikesportNZ.com on FACEBOOK here