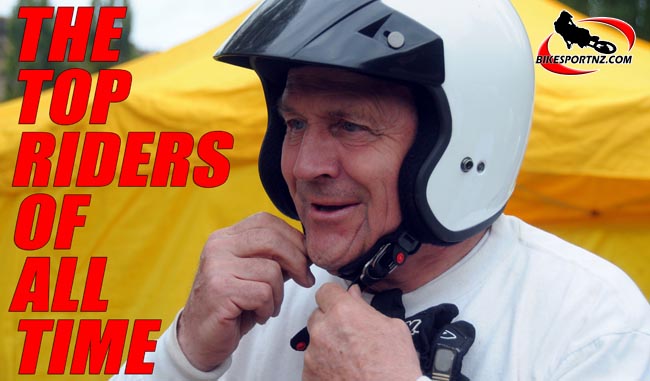 There is no doubt that the United States is the top nation in the world when it comes to motocross, having won the Motocross of Nations an astounding 22 times since the competition's inception in 1947.
But what will surprise many is that, while one American rider – Kawasaki ace Jeff Ward – is a standout individual in the history of this "Olympic Games of Motocross", he has to share the top spot with a British rider, Jeff Smith.
Ward was a winning team rider for Team USA in Belgium in 1983, in Belgium in 1984, in Germany in 1985, in the USA in 1987, in France in 1988, in Germany in 1989 and in Sweden in 1990.
Smith (pictured above in more recent times) was a winning team rider for Team Britain in Belgium in 1956, in England in 1957, in Belgium in 1959, in France in 1960, in England in 64, in Belgium in 1965 and in The Netherlands in 1967.
BikesportNZ.com was fortunate to have interviewed Smith a couple of years ago and was impressed by his affable and modest character.
Top dogs Smith and Ward have each been members of winning teams on seven separate occasions, while Belgian rider Roger De Coster has six wins to his credit.
American David Bailey is another stand-out, taking five wins in a row in the 1980s, while 10-time former world champion Stefan Everts, of Belgium, was also a winning team rider on five occasions.
American Ryan Dungey has been a member of a winning team on three occasions – in Italy in 2009, in the USA in 2010 and in France in 2011 – and he could make it four if his team wins in Latvia this weekend.
The odds are in favour of the Americans winning again this weekend, Team USA having won the Chamberlain Trophy the more times than any other nation, with a grand total of 22 wins, dating back to 1981.
During that time, Team USA won 13 years in a row from 1981 until 1993 inclusive, and then compiled another win-streak, this time seven years straight, from 2005 until 2011 inclusive.
If the Americans win again in 2014, this time in Latvia, it means Dungey will join fellow Americans Ryan Villopoto, Johnny O'Mara and Ricky Johnson as a four-time winner.
Countries with the most MXoN wins:
1. United States – 22 wins
2. Great Britain – 16 wins
3. Belgium – 15 wins
4. Sweden – 7 wins
5= Italy – 2 wins
5= USSR – 2 wins
7= Czechoslovakia – 1 win
7= France -1 win
7= Germany -1 win
Individuals with the most MXoN wins:
1= Jeff Ward (USA) – 7
1= Jeff Smith (GB) – 7
3. Roger DeCoster (Bel) – 6
4= Stefan Everts (Bel) – 5
4= David Bailey (USA) – 5
© Words and photos by Andy McGechan, www.BikesportNZ.com
Find BikesportNZ.com on FACEBOOK here.