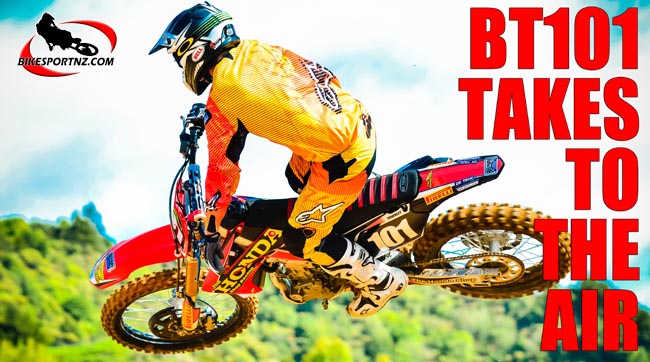 As we hinted on BikesportNZ.com yesterday, it has been confirmed there will now be four Kiwis racing at round seven of the Australian Motocross Championships this weekend.
Tauranga's Ben Townley will make his second Monster Energy MX Nationals appearance of 2014 this weekend, returning to the hills of Conondale in Queensland to race the MX1 class for the Penrite Honda Team.
The only question will be whether his hands will be able to handle the rigours of top-level motocross after he suffered serious blisters when engaged in another rare race appearance as he won the annual Tarawera 100 cross-country race near Whakatane last Saturday.
But, with taping in place, it is sure that Townley will be able to perform at Conondale, a track considered more similar than most to circuits from his home country.
The BikesportNZ.com crew will be there, just as we were at the Tarawera 100 race, to see if Townley, alongside fellow Kiwis Rhys Carter (who finished third at the Tarawera 100), Hamish Harwood and Kayne Lamont can take it to the Aussies on Sunday.
Conondale was the scene of Townley's stunning sweep on debut in the MX Nationals back in 2012, and while the now-retired former world champion isn't in that same jaw-dropping form, he's certain to figure come Sunday afternoon.
"It's an awesome track; the natural undulation is something I enjoy racing on," Townley said. "I am racing again because I am enjoying my riding – it's that simple. I have no unrealistic expectations and am just looking forward to being around the fans and the team."
Townley will ride aboard a heritage-themed Penrite Honda CRF450R at Conondale alongside team regular Josh Cachia on a CRF250R in the MX2 ranks.
Penrite Honda Racing is launching its heritage range of merchandise this weekend with a complete new look. General manager of Penrite Oil Toby Dymond is excited with new look and hopes the public gets behind it.
"We are an 88-year-old Australian company and we are very patriotic," he explained. "Being an Australian owned and made product we felt Australia's leading motocross championship – the Monster Energy MX Nationals – is the perfect place to launch the new Penrite Honda range of retro merchandise.
"It's also fitting to have Ben Townley return to the historical circuit and race the Honda CRF450 Penrite Oil heritage-themed bike."
Townley was a shock starter at Wanneroo's fifth round earlier this year, also later featuring at the annual Manjimup 15,000 event in Western Australia with a strong runner-up finish.
© Photo by Andy McGechan, www.BikesportNZ.com
Find BikesportNZ.com on Facebook HERE