WITH A RACE UP THEIR SLEEVES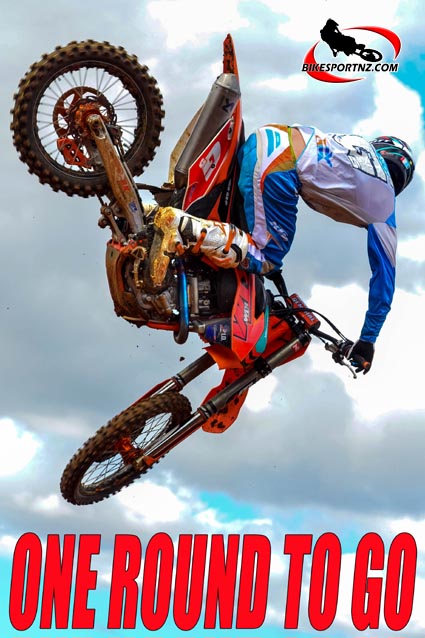 The end is in sight for Mount Maunganui's Cody Cooper, Mangakino's Kayne Lamont and Hamilton's Josiah Natzke in the 2014 New Zealand Motocross Championships.
These three riders are each just three races away from clinching, respectively, the MX1, MX2 and 125cc national titles in this season's Backflips Clothing-sponsored championships.
After the third round of four in the series near Pukekohe on Sunday, Honda rider Cooper left the track at Tuakau with a massive 37-point lead over visiting Scottish former Grand Prix star Billy MacKenzie (Yamaha), Husqvarna rider Lamont packed up his helmets and boots and drove away with a 38-point advantage over Dargaville's Hamish Dobbyn (KTM) and fellow KTM rider Natzke shot off back to his Waikato base with a 35-point buffer over another KTM rider, Atiamuri's Hadleigh Knight.
With 25 points on offer for each race win and only three races remaining for each class – at the final round in Taupo in two weeks' time – the class leaders therefore each have a race up their sleeves.
Barring a miracle or disaster, depending upon your point-of-view, it seems a mere formality that Cooper, Lamont and Nazke will be the 2014 champions at the end of the day at Taupo.
For Cooper it will represent a successful defence of the MX1 crown he also won last season, while for Lamont and Natzke it will be their first senior national titles.
Both Lamont and Natzke are no strangers to winning, however, because both these individuals are former New Zealand junior champions and have both already tasted outstanding successes overseas too.
Other riders to impress at the weekend included Australian KTM rider Kirk Gibbs (pictured above), Taupo's Brad Groombridge (Suzuki), Rotorua's Michael Phillips (Honda) and his younger brother, John (also Honda), Australian Jay Wilson (Yamaha), Takaka's Hamish Harwood (KTM), Te Puke's Logan Blackburn (Yamaha), Christchurch's Dylan Walsh (KTM) and Papakura's Sean O'Connor (Husqvarna).
The 2014 senior nationals wind up with the fourth and final round set for Taupo on March 22.
Leading standings after three of four rounds:
MX1 class: 1. Cody Cooper (Mount Maunganui, Honda) 217 points; 2. Billy MacKenzie (Scotland, Yamaha) 180; 3. Brad Groombridge (Taupo, Suzuki)168; 4. Kirk Gibbs (Australia, KTM) 157; 5. Michael Phillips (Rotorua, Honda) 125.
MX2 class: 1. Kayne Lamont (Mangakino, Husqvarna) 216 points; 2. Hamish Dobbyn (Dargaville, KTM) 178; 3. Jay Wilson (Australia, Yamaha) 164; 4. John Phillips (Rotorua, Honda) 152; 5. Scott Columb (Queenstown, Yamaha) 151.
125cc class: 1. Josiah Natzke (Hamilton, KTM) 214 points; 2. Hadleigh Knight (Atiamuri, KTM) 179; 3. Logan Blackburn (Te Puke, Yamaha) 168; 4. Beau Yeandle (Morrinsville, Yamaha) 116; 5. Ryan Metz (Tauranga, Yamaha) 114.
© Words and photo by Andy McGechan, www.BikesportNZ.com
Find BikesportNZ.com on Facebook HERE
Full story and more photos in your next issue of KIWI RIDER magazine.
Check back here on www.BikesportNZ.com during this week as we bring you more stories and photos from the weekend, building up to the grand finale in Taupo on March 22.
Full results HERE, thanks to Nicole Bol and the team at MX Timing.