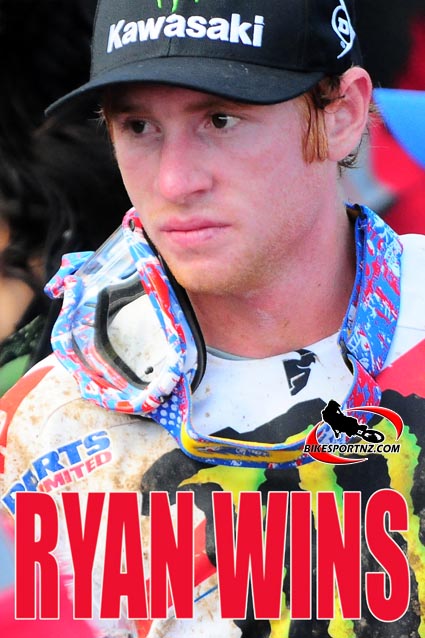 Reigning three-time 450SX class champion Ryan Villopoto has taken his Kawasaki to win his first Monster Energy AMA Supercross race of the season in front of nearly 50,000 fans inside Chase Stadium in Phoenix.
Australian Suzuki rider Matt Moss grabbed the holeshot to start the 20-lap 450SX class main event, with Yamaha's Justin Brayton and KTM's Ryan Dungey close behind.
Villopoto started in ninth, behind the likes of Suzuki's James Stewart, Honda's Justin Barcia, and KTM's round one winner Ken Roczen.
Brayton took over the lead after the second corner, bringing Dungey and Barcia with him. Barcia surged towards the front, passing Dungey for second and then setting his sights on the lead.
Barcia passed Brayton, but the Yamaha rider fought back, which allowed Dungey to reclaim second from Barcia. A six-rider battle ensued with Brayton, Dungey, Roczen, Barcia, Villopoto, and Stewart all within just a few seconds of one another.
On lap 7, Barcia and Roczen made contact while battling for third, sending Roczen to the ground. Villopoto pressured Barcia shortly thereafter and made the pass for third.
As Dungey looked to make a move on Brayton, Villopoto closed in and made the pass for second on lap 11. On lap 13, Villopoto passed Brayton and fended off a late charge to win in Phoenix for the first time in the 450SX class.
"Justin was riding a hell of a race," said Villopoto. "I have to give it to him, he made it tough. I didn't get the start I wanted because the (starting) gate was slippery, but I just needed to be patient.
"The Phoenix (track) gets really slick so I had to take my time and make sure my passes stuck," he added.
Brayton's runner-up effort tied his career-best finish, which came in Toronto in 2012.
"This feels so good," Brayton exclaimed. "The new Yamaha is unbelievable. We did our homework this year. It's been a lot of hard work, but being up [on the podium] pays off.
"I was trying to pay attention to what was going on behind me but still look ahead. I did all I could to stay up front, but Ryan (Villopoto) got by me."
Dungey finished third, giving him back-to-back podium results.
"That was a good opportunity to get a win," said Dungey. "I kept making mistakes. I couldn't get through the whoops, but all in all it was a good ride.
"The track was super slippery and it caught us off guard but we still put in on the box."
With his win, the 35th of his career, Villopoto moves into the 450SX Class points lead. He holds a one-point advantage over Dungey.
250SX CLASS
For the second consecutive week, KTM rider Jason Anderson used a last-lap pass to post back-to-back victories in the Western Regional Championship 250SX class.
Yamaha's Cooper Webb raced to the holeshot to start the Western Regional 250SX class main event.
Webb held onto the lead for most of the opening lap until Honda's Cole Seely moved into the lead by passing both Webb and Anderson, who started in second. Webb went down moments later and lost several positions.
Seely and Anderson opened a comfortable lead on the field, with Seely extending his advantage over Anderson for most of the 15-lap Main Event. As the leaders approached lappers in the late stages, Anderson reduced his deficit to mere bike lengths.
On the final lap, Seely made a slight mistake, which allowed Anderson to challenge for the lead, making the pass with about a half lap remaining.
"I was out for redemption tonight," said Anderson, who failed to qualify for the Main Event in Phoenix the year prior. "I got a good start on my KTM, like I have been all season.
I don't plan on those last-lap passes, but it was there and I needed to take it. My goal is to keep control of the red number plate so I'll do whatever it takes to do that.
"I really want it," he concluded.
For Seely it was the second weekend in a row where he was left feeling bummed after the race.
"I'm bummed," said Seely. "I've been battling stomach issues all week, so was struggling with that. I felt (my stomach) tighten up late in the race and I just made a mistake and Jason got me again."
Honda's Zach Osborne and Kawasaki's Dean Wilson battled for the third position for the bulk of the Main Event, with Osborne eventually getting the edge to grab his second podium finish of the year.
With Anderson, Seely, and Osborne on the podium, it duplicated the finishing order from last week's opening race. Anderson's lead in the championship sits at six points.
Monster Energy Supercross returns to Anaheim and Angel Stadium for the third race of the 2014 season next weekend of January 18.
450SX Main Event Results:
1. Ryan Villopoto – Kawasaki KX 450F
2. Justin Brayton – Yamaha YZ450F
3. Ryan Dungey – KTM 450 SX-F
4. James Stewart – Suzuki RM-Z450
5. Justin Barcia – Honda CRF 450
6. Ken Roczen – KTM 450 SX-F
7. Andrew Short – KTM 450 SX-F
8. Broc Tickle – Suzuki RM-Z450
9. Chad Reed – Kawasaki KX 450F
10. William Hahn – Honda CRF 450
11. Matt Moss – Suzuki RM-Z450
12. Ivan Tedesco – KTM 450 SX-F
13. Nicholas Wey – Kawasaki KX 450F
14. Vince Friese – Honda CRF 450
15. Matthew Goerke – KTM 450 SX-F
16. Kyle Chisholm – Yamaha YZ450F
17. Mike Alessi – Suzuki RM-Z450
18. Jacob Weimer – Kawasaki KX 450F
19. Kyle Partridge – Honda CRF 450
20. Nicholas Schmidt – Honda CRF 450
21. Weston Peick – RM-Z450
22. Chris Blose – Honda CRF 450
450SX Championship standings after round 2 of 17:
1. Ryan Villopoto – 43 Pts
2. Ryan Dungey – 42 Pts
3. Ken Roczen – 40 Pts
4. Justin Brayton – 37 Pts
5. Chad Reed – 32 Pts
6. Justin Barcia – 32 Pts
7. Andrew Short – 26 Pts
8. Broc Tickle – 26 Pts
9. James Stewart – 22 Pts
10. William Hahn – 21 Pts
11. Matt Moss – 18 Pts
12. Joshua Grant – 14 Pts
13. Jacob Weimer – 14 Pts
14. Mike Alessi – 13 Pts
15. Ivan Tedesco – 10 Pts
16. Nicholas Wey – 8 Pts
17. Nicholas Schmidt – 8 Pts
18. Kyle Partridge – 8 Pts
19. Vince Friese – 7 Pts
20. Matthew Goerke – 7 Pts
250SX Main Event Results:
1. Jason Anderson – KTM 250 SX-F
2. Cole Seely – Honda CRF 250
3. Zach Osborne – Honda CRF 250
4. Dean Wilson – Kawasaki KX 250F
5. Malcolm Stewart – Honda CRF 250
6. Cooper Webb – Yamaha YZ250F
7. Dean Ferris – KTM 250 SX-F
8. Justin Hill – Kawasaki KX 250F
9. Jessy Nelson – Honda CRF 250
10. Cole Martinez – Kawasaki KX 250F
11. Scott Champion – Yamaha YZ250
12. Shane Mcelrath – Honda CRF 250
13. Austin Burns – Honda CRF 250
14. Darryn Durham – Kawasaki KX 250F
15. Chris Plouffe – Honda CRF 250
16. Colton Aeck – Honda CRF 250
17. Dakota Tedder – Kawasaki KX 250F
18. Aaron Siminoe – KX 250F
19. Ruben Alanis – KTM 250 SX-F
20. Killian Auberson – KTM 250 SX-F
21. Conner Elliott – Honda CRF 250
22. Jake Canada – Honda CRF 250
250SX West Regional Championship standings after round 2 of 17:
1. Jason Anderson – 50 Pts
2. Cole Seely – 44 Pts
3. Zach Osborne – 40 Pts
4. Dean Wilson – 36 Pts
5. Cooper Webb – 31 Pts
6. Malcolm Stewart – 29 Pts
7. Justin Hill – 28 Pts
8. Jessy Nelson – 24 Pts
9. Darryn Durham – 21 Pts
10. Dean Ferris – 21 Pts
11. Shane Mcelrath – 14 Pts
12. Cole Martinez – 12 Pts
13. Scott Champion – 12 Pts
14. Dakota Tedder – 12 Pts
15. Austin Politelli – 11 Pts
16. Michael Lei – 10 Pts
17. Jake Canada – 10 Pts
18. Austin Burns – 8 Pts
19. Zachary Bell – 6 Pts
20. Chris Plouffe – 6 Pts