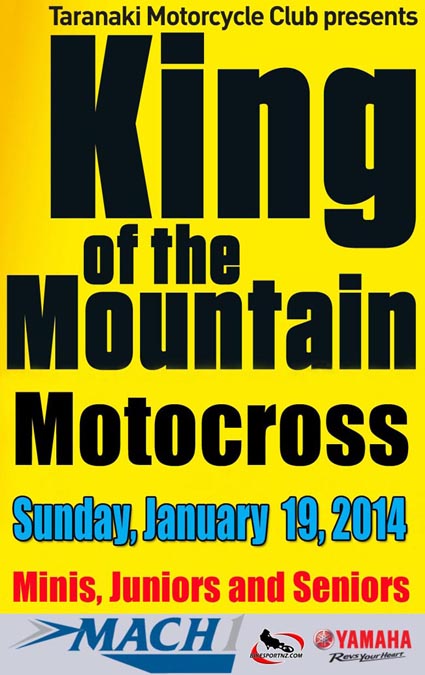 Who will be King of the Mountain in 2014?
Proudly brought to you by the Taranaki Motorcycle Club and sponsored by Mach 1 Yamaha, the annual King of the Mountain motocross is set for Sunday, January 19, at Taranaki's popular Barrett Motorcycle Park on the outskirts of New Plymouth.
Online entry form and for further details HERE
Free entry for all South Island competitors – proof of address required
$10 discount for TMC members
VENUE: Barrett Motorcycle Park, Barrett Road, New Plymouth Signposted from corner Barrett Road and South Road
Sign on 7-8am Riders Briefing 8.30am
Gate Entry: Free to all competitors and mechanics/support people before 9am.  Gate fee charged after 9am.
Race duration
– Minis 3 races x 10 minutes
– Juniors 3 races per class 3 x 12 minutes & KOTM race
– Junior King of the Mountain – 40 fastest times from race one
– MX1, MX2, Nat 125CC 2 x 20 minute races
– King of the Mountain, feature race 1 x 20 minutes – top 10 from MX1, MX2, Nat 125CC, Vets
– MX3, Vets 3 x 15 minutes
Camping available at the track – $10 per night. Prior consent required from TMC.
No dogs allowed
Contacts:
Carla Read (administrator) Ph 06 759 0930, ext 709
Deb Holmes (secretary) Mob 027 471 0921
For updates/cancellations please call the Info Line 06 751 5588 or go to the club's web site www.tmcc.co.nz