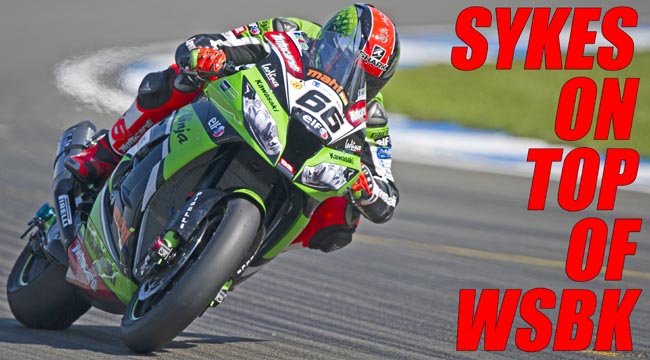 Britain's Tom Sykes heads into the final round of the 2013 World Superbike Championship needing to score just 14 points – or two ninth place finishes – at Jerez to secure his first international title after stretching clear with a dominant double win at Magny-Cours, in France, at the weekend.
A pivotal weekend for what has proven to be an engrossing title fight, Sykes came into the penultimate round in France with the advantage already on his side having extended his lead over Eugene Laverty and Sylvain Guintoli to 23 and 24 points respectively.
Indeed, though inclement weather conditions during the first part of the weekend served to keep things fairly open coming into race day, Sykes's impressive eighth pole position of the season gave a hint as to his full potential around the Nevers circuit.
And so it proved, Sykes producing an utterly faultless display of riding in both races to lead into the first bend and simply multiply his advantage to the end.
Though Sykes insists it was harder than it looked, particularly when a sharp shower on the final lap of race two created some havoc behind him, he was thrilled to produce arguably the most important wins of his career around the venue where he famously lost out on the 2012 title by just half-a-point.
"It is great to score a double win here and we made two small changes in the bike to race two. We are always chasing perfection. That is what we spend our lives doing. When you are on the edge all the time you have got very small changes that make a big outcome. The bike was very nice to ride and the races went very well.
"When the circuit and conditions suit a bike and rider you have to take the most advantage from it. Magny Cours was generous to me, the bike and all at Kawasaki, so this was great. It was spitting with rain at the end of race two and that was difficult to manage, even though I had a big gap and not much pressure. I was sliding the rear a lot. We still have some work to do but the good thing is that we have been there or thereabouts all season."
Sykes' eighth and ninth wins of the season – and his third double victory of the year – means he leads the standings by 37 points from Laverty and 38 points from Guintoli.
With just 50 points up for grabs at the final event in Jerez, Sykes can seal the title with just a third place finish in the first race of the weekend, or coast to a pair two ninth place finishes, regardless of where Laverty or Guintoli finish.
RACE ONE:
1. Tom Sykes GBR Kawasaki Racing ZX-10R 29m 38.830s
2. Sylvain Guintoli FRA Aprilia Racing RSV4 +2.146s
3. Eugene Laverty IRL Aprilia Racing RSV4 +10.643s
4. Davide Giugliano ITA Althea Racing RSV4 +15.687s
5. Marco Melandri ITA BMW GoldBet S1000RR HP4 +23.573s
6. Michele Pirro ITA Alstare Ducati 1199 R +33.846s
7. Michel Fabrizio ITA Pata Honda CBR1000RR +37.599s
8. Leon Haslam GBR Pata Honda CBR1000RR +37.903s
9. Ayrton Badovini ITA Alstare Ducati 1199 R +38.181s
10. Lorenzo Lanzi ITA Mesaroli Ducati 1098 R +51.604s
11. David Salom ESP Kawasaki Racing ZX-10R +54.742s
12. Federico Sandi ITA Pedercini Kawasaki ZX-10R +1m 03.442s
13. Vincent Philippe FRA Fixi Crescent Suzuki GSX-R1000 +1m 07.176s
14. Fabrizio Lai ITA MR Ducati 1199 R +1m 24.850s
15. Vittorio Iannuzzo ITA Grillini Dentalmatic BMW S1000RR +1 laps
Not Classified
16. Mark Aitchison AUS Pedercini Kawasaki ZX-10R 16 laps completed
17. Toni Elias ESP Red Devils Roma Aprilia RSV4 15 laps completed
18. Jules Cluzel FRA Fixi Crescent Suzuki GSX-R1000 2 laps completed
19. Chaz Davies GBR BMW GoldBet S1000RR HP4 2 laps completed
Fastest lap
Tom Sykes GBR Kawasaki Racing ZX-10R 1m 38.345s
RACE TWO:
1. Tom Sykes GBR Kawasaki Racing ZX-10R 34m 36.149s
2. Eugene Laverty IRL Aprilia Racing RSV4 +11.091s
3. Sylvain Guintoli FRA Aprilia Racing RSV4 +11.337s
4. Davide Giugliano ITA Althea Racing RSV4 +23.008s
5. Chaz Davies GBR BMW GoldBet S1000RR HP4 +25.724s
6. Vincent Philippe FRA Fixi Crescent Suzuki GSX-R1000 +34.762s
7. Marco Melandri ITA BMW GoldBet S1000RR HP4 +36.219s
8. Toni Elias ESP Red Devils Roma Aprilia RSV4 +40.957s
9. Lorenzo Lanzi ITA Mesaroli Ducati 1098 R +43.713s
10. Ayrton Badovini ITA Alstare Ducati 1199 R +53.188s
11. David Salom ESP Kawasaki Racing ZX-10R +56.251s
12. Mark Aitchison AUS Pedercini Kawasaki ZX-10R +1m 04.048s
13. Federico Sandi ITA Pedercini Kawasaki ZX-10R +1m 04.243s
14. Jules Cluzel FRA Fixi Crescent Suzuki GSX-R1000 +1m 10.346s
15. Fabrizio Lai ITA MR Ducati 1199 R +1m 29.441s
Not Classified
16. Vittorio Iannuzzo ITA Grillini Dentalmatic BMW S1000RR 13 laps completed
17. Michel Fabrizio ITA Pata Honda CBR1000RR 12 laps completed
18. Leon Haslam GBR Pata Honda CBR1000RR 7 laps completed
19. Michele Pirro ITA Alstare Ducati 1199 R 2 laps completed
Fastest lap
Tom Sykes GBR Kawasaki Racing ZX-10R 1m 37.932s