ENDURANCE RACING AT MANFEILD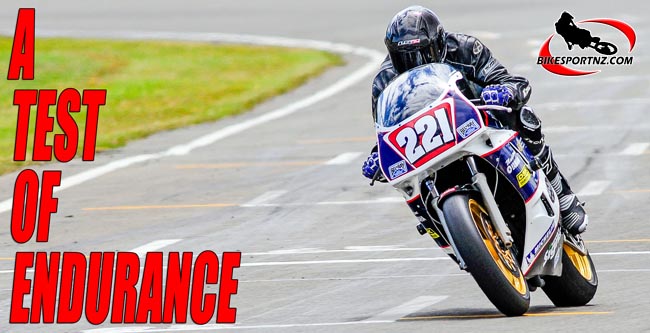 Speed, stamina, endurance, riding skill and just a little bit of luck … it all comes together in the Pacific Motorcycle Club's upcoming double-header one-hour and three-hour motorcycle marathons in less than two weeks' time.
The two-race event is set for Manfeild on Saturday, October 5, the same Manawatu venue that once hosted the immensely popular Castrol Six-Hour road-race events in the 1970s and 80s.
"Unlike in the Castrol Six-Hour days, where riders had to use standard production bikes, this new event will be open to all bikes, even modified ones," said the event's clerk of the course, Nigel Armstrong.
"We can expect the bikes to get up to enormous speeds, although the smart riders will also be thinking about conserving their bikes. The most important thing is to finish the race.
"The bikes are able to be ridden by two or three-rider teams, although there will be a few riders who will go it solo," said Armstrong.
"An interesting aspect of endurance racing is the change-over of riders, refuelling or tyre changes. Pit action will be very exciting. The race can be won or lost in the pits."
The one-hour race is for Formula Three bikes – with four-cylinder engines under 400cc or two-cylinder engines under 650cc. The three-hour race features the bigger Formula Two and Formula One machines.
Endurance events such as these made Manfeild a motorcycling Mecca 30 years ago and, with the popular Feilding race circuit celebrating its 40th birthday in October, what better way to mark the occasion than to rekindle the endurance spectacle.
Hundreds of racers, riders and spectators alike made a pilgrimage each year to watch these endurance races.
They were spellbound as they witnessed young men such as Ginger Molloy, Roger Freeth, Richard Scott, Bob Toomey, Paul 'Superman' Pavletich, Graeme Crosby, Robert Holden and Jason McEwen and the Hiscock brothers, Dave and Neville, and Eddie 'The Kat' Kattenberg (pictured above) took on Australian greats such as Wayne Clarke, Rob Doran, Mike Dowson, Malcolm Campbell, Neil Chivas, Rob Phillis, Scott Doohan and Troy Corser on Kiwi turf.
And the fans were enthralled watching teenagers such as Simon Crafar, Andrew Stroud, Chris Haldane and Aaron Slight as they battled it out around Manfeild before embarking on their successful international careers.
Will we witness the same spawning of Kiwi international talent at Manfeild on October 5?
Spectator entry is free, so there is no excuse not to be there to see how it all unfolds.
© Words and photo by Andy McGechan, www.BikesportNZ.com