USA MOTOCROSS TITLES BAGGED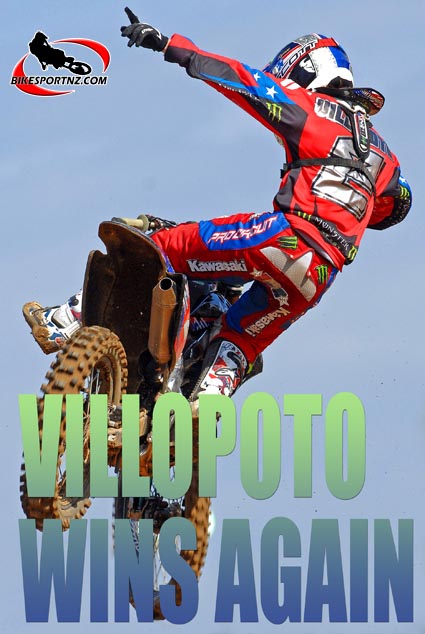 More than 21,000 fans were on hand to witness a historic day at Miller Motorsports Park for Saturday's 11th round of 12 in the United States Motocross Championships at Utah.
The fans were there to see two champions crowned at the inaugural event in Tooele, Utah. By virtue of a 1-1 moto sweep, Kawasaki's Ryan Villopoto captured his second career 450 class championship, while Honda's Eli Tomac clinched his first ever 250 class title.
Villopoto began the day with his third consecutive holeshot in moto one of the 450 class, immediately putting a gap on the rest of the field.
Yamaha's Justin Brayton jumped into the second place position early on, with KTM's Ryan Dungey and Suzuki's James Stewart close behind.
Honda's Trey Canard made his way into third, where he maintained a comfortable position throughout the first moto.
Villopoto and Dungey finished first and second respectively in moto one, thus extending the championship chase into moto two.
Suzuki's Ryan Sipes captured the holeshot in moto two but it was Villopoto who commanded the early lead. Dungey stuck close behind as the 2012 450 class champion attempted to keep his title hopes alive at the penultimate round. However, Villopoto set a pace that couldn't be matched, finishing 11 seconds ahead of Dungey in moto two.
Canard put forth a strong performance at the inaugural event, claiming third overall with a pair of third place finishes.
Villopoto's nearly flawless performance at the Utah National was enough to clinch the 2013 championship and become only the 11th rider in Lucas Oil Pro Motocross to win more than a single 450 class championship. Furthermore, Villopoto's second title carries the Washington native to a total of five Lucas Oil Pro Motocross Championships across the 250 and 450 Classes.
"It is gnarly to be at this level of racing but you just take it year by year and race by race. There's really no time to sit down and look at it as how many races do we need to win," Villopoto commented regarding his career number of championships.
"The thing that keeps us going as racers is definitely winning. Yeah, winning is fun but during the week it's tough."
In the 250 Class, Kawasaki's Martin Davalos grabbed the holeshot in moto one but the Honda team-mates of Zach Osborne, Justin Bogle and Wil Hahn surrounded the leader right away. Osborne briefly took over the lead before 250 class points leader Eli Tomac made his move to the front.
Rookie Adam Cianciarulo inserted his Kawasaki into the brigade of Hondas early on where he maintained the second place position for a majority of the race. Reigning 250 class champion Blake Baggett began moto one outside the top ten but the Kawasaki rider caught and eventually passed his team-mate for the second place position.
Cianciarulo held on to capture a career best finish of third place in moto one, followed by Tomac's closest title challenger, Germany's Ken Roczen (KTM).
Heading into moto two, the 250 class championship was still up for grabs as Tomac and Roczen went head-to-head for valuable points. Bogle grabbed the holeshot and the early lead until Roczen took it over on lap seven. Tomac came from behind to apply pressure on Roczen before the points leader eventually took over the lead position.
Although Tomac had the upper hand on Roczen in moto two, the championship wasn't completely determined until Baggett entered the second place battle with Roczen late in the race. Baggett's last-lap pass on Roczen was enough to give Tomac the edge he needed to secure the 250 class championship with a 1-1 sweep at the penultimate round.
"I didn't really know I had the championship wrapped up, I was just going with the flow," Tomac said after Moto 2. "I didn't really think it was going to happen today, I am sort of in shock right now. I think it will sink in more after I get some rest, right now I'm pretty tired and just out of energy."
Baggett captured second overall with a consistent 2-2 moto score, while Roczen came in third with 4-3 finishes.
The 2013 Lucas Oil Pro Motocross Championship season finale will take place next Saturday, August 24 in Lake Elsinore, Calif., with the Red Bull Lake Elsinore National.
Results from round 11 of 12:
450 Class (Moto Finish)
1.Ryan Villopoto, Poulsbo, Wash., Kawasaki (1-1)
2. Ryan Dungey, Belle Plaine, Minn., KTM (2-2)
3. Trey Canard, Shawnee, Okla., Honda (3-3)
4. Weston Peick, Wildomar, Calif., Suzuki (5-5)
5. Justin Brayton, Fort Dodge, Iowa, Yamaha (6-7)
6. Justin Barcia, Monroe, N.Y., Honda (11-4)
7. Jake Weimer, Twin Falls, Idaho, Kawasaki (8-6)
8. Phil Nicoletti, Cohocton, N.Y., Yamaha (12-8)
9. Matt Goerke, Sun City, Calif., KTM (9-11)
10. Ben LaMay, Wasilla, Ala., Yamaha (13-10)
450 Class Championship Standings
1. Ryan Villopoto, Poulsbo, Wash., Kawasaki, 513
2. Ryan Dungey, Belle Plaine, Minn., KTM, 463
3. Justin Barcia, Monroe, N.Y., Honda, 375
4. Trey Canard, Shawnee, Okla., Honda, 303
5. James Stewart, Haines City, Fla., Suzuki, 289
6. Jake Weimer, Twin Falls, Idaho, Kawasaki, 244
7. Andrew Short, Colorado Springs, Colo., KTM, 238
8. Broc Tickle, Holly, Mich., Suzuki, 216
9. Josh Grant, Riverside, Calif., Yamaha, 208
10. Mike Alessi, Victorville, Calif., Suzuki, 204
250 Class (Moto Finish)
1. Eli Tomac, Cortez, Colo., Honda (1-1)
2. Blake Baggett, Grand Terrace, Calif., Kawasaki (2-2)
3. Ken Roczen, Apolda, Germany, KTM (4-3)
4. Adam Cianciarulo, Port Orange, Fla., Kawasaki (3-9)
5. Justin Bogle, Cushing, Okla., Honda (9-4)
6. Darryn Durham, Butler, Pa., Kawasaki (8-5)
7. Marvin Musquin, La Reole, France, KTM (5-8)
8. Cooper Webb, Morehead City, N.C., Yamaha (7-7)
9. Zach Osborne, Abingdon, Va., Honda (6-10)
10. Justin Hill, Yoncalla, Ore., Kawasaki (10-14)
250 Class Championship Standings
1. Eli Tomac, Cortez, Colo., Honda, 505
2. Ken Roczen, Apolda, Germany, KTM, 454
3. Marvin Musquin, La Reole, France, KTM, 388
4. Blake Baggett, Grand Terrace, Calif., Kawasaki, 373
5. Zach Osborne, Abingdon, Va., Honda, 322
6. Justin Bogle, Cushing, Okla., Honda, 268
7. Jeremy Martin, Millville, Minn., Yamaha, 264
8. Jason Anderson, Edgewood, N.M., Suzuki, 256
9. Cooper Webb, Morehead City, N.C., Yamaha, 217
10. Kyle Cunningham, Aledo, Texas, Yamaha, 214