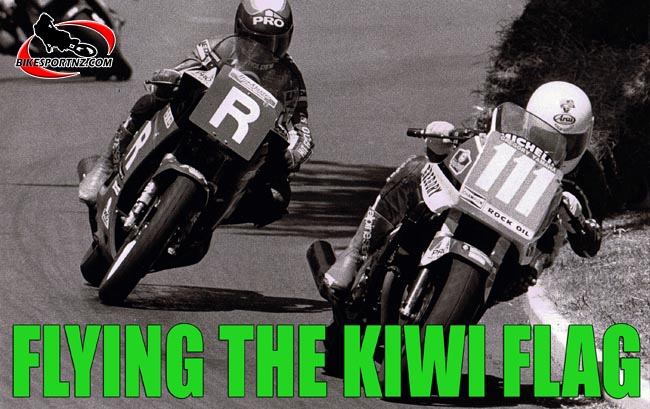 They could be called New Zealand's 'secret army', a virtual platoon of motorcycle racers who, with very little fanfare, have left our shores to take on the world's elite.
When these riders headed overseas, they left with no trumpet blast and certainly they'll expect no tickertape parade when they return.
These are our modest sporting heroes, some of whom have become pin-up stars in European, Australian and American bike magazines and who are attracting the attention of high-profile race teams abroad.
They are each following the wheel-tracks of such pioneering Kiwis as Burt Munro (of "The World's Fastest Indian" fame), Hugh Anderson, Kim Newcombe, Graeme Crosby, Ginger Molloy, John Woodley, Stu Avant, Rod Coleman, Dennis Ireland, Keith Turner, Len Perry, Trevor Discombe, Geoff Perry, Aaron Slight (pictured above, bike 111), Andrew Stroud, Simon Crafar, John Hepburn, Jason McEwen, Rodger Freeth, Robert Holden (pictured above, bike R), Shaun Harris, Tony Rees, Chris Haldane, Richard Scott, Wellington brothers Dave and Neville Hiscock, multi-time speedway world champion Ivan Mauger, Ronnie Moore and Barry Briggs, Taranaki brothers Shayne and Darryll King, Stefan Merriman, Katherine Prumm, Tony Cooksley, Josh Coppins, Darryl Hurley, and Taupo's Ben Townley, to name just a selection.
More world championships have been won by New Zealand motorcyclists than by competitors in any other sport in this country and the story of Kiwis boxing above their weight on the world stage continues today.
The list of Kiwi motorcycle racers who currently ply their respective trades overseas is actually surprisingly long and includes such individuals as Pahiatua's Paul Whibley and Wellington's Rory Mead (both racing cross-country in the United States), Auckland's Chris Birch (enduro events), Wellington's Jake Whitaker (moto trials and enduro), Mount Maunganui's national MX1 motocross champion Cody Cooper, fellow Bay of Plenty man Rhys Carter, Mangakino's Kayne Lamont, Te Puke's Logan Blackburn, Elsthorpe's Kieran Scheele, Takaka's Hamish Harwood, Rotorua's John Phillips, Wellington's Josh Bartosh and Otago's Courtney Duncan (all racing motocross).
Tokoroa's Sean Clarke, Mokau's Adrian Smith and Auckland's Chris Power have also recently competed overseas.
In the tarmac world we have Rangiora's Jake Lewis, Paraparaumu's Sam Croft, Auckland's Blayes Heaven and Auckland's Connor London (all racing in the European Junior Cup) and Orewa's Avalon Biddle (racing in the Honda CBR600 Cup competition, a support class within the Italian Superbike Championships).
Former Wellington man Bruce Anstey finished in third place in the blue riband Senior TT race at the Isle of Man TT races just a few weeks ago, adding to a glittering array of prizes that Anstey has collected from that part of the world in recent years.
Wairarapa's Doug Fairbrother and Wellington's Chris Swallow are planning to head off to the Isle of Man classic meeting in August.
It's tough for Kiwis racing abroad, leaving behind family and friends on this geographically-remote couple of islands as they bash handlebars with the best in the world.
Pahiatua's Paul Whibley is one of many who now spend much of their time on foreign soil. For 10 months of the years he is based in the United States, a country where he has twice been national cross-country champion.
The 34-year-old former Manawatu forestry worker, affectionately dubbed "The Axeman" on the international motorbike scene, won two major cross-country titles in the US last season, clinching the Grand National Cross-country Championships (GNCC) for a second time – he also won it in 2009 – and the Off-Road Motorcycle and ATV (OMA) crown as well, although his 2013 campaign to defend both titles has been fraught with problems, not least of all a hand injury near the start of the season.
He is currently fifth in the GNCC overall standings after nine of 13 rounds.
It is a similar story for Otago teenager Courtney Duncan.
She demolished some of the best female motocross riders in the world when she scored back-to-back wins at the opening round of the Women's Motocross Championships in the United States in May.
But then she broke her wrist and was forced to site idly by and watch as her title rivals battled on without her.
The true test for Whibley and Duncan now will be how quickly they can rebound.
According to American general George Patton: "Success is how high you bounce when you hit the bottom."
We figure that, if Kiwis can fly, they can surely bounce too … and, we imagine, very high indeed.
© Words and photo by Andy McGechan, www.BikesportNZ.com