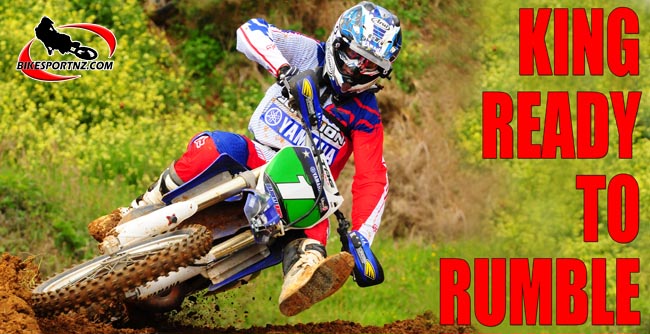 Watch out! Darryll King is back on track and he means business.
The 44-year-old former New Zealand and Australian motocross champion and the reigning veteran's world champion took an extended break from the sport recently to undergo remedial surgery but he reports this week that he is back on track and ready for action.
The Yamaha stalwart's first assignment is to represent the Patetonga Motorcycle Club at Saturday's fourth annual Battle of the Clubs Motocross at Taupo's Digger McEwen Motocross Park.
The multiple champion said he needed an operation to repair a hernia and also required work on his knees but he is fresh again and raring to go at this weekend's popular event in Taupo, a fundraiser to assist in sending the three-rider New Zealand squad to the annual Motocross of Nations – the Olympic Games of motocross – in Germany in September.
"I have been a professional motocross racer for at least the past 25 years and so, to be honest, I'll never be like brand new again, but I really wanted to be part of this weekend's event.
"I have been a competitor at the Motocross of Nations for New Zealand in the past and it's a special thing. I want to do my part to help send a team this year."
King was a member of the Kiwi squad that finished on the podium at Foxhills, in England, in 1998.
"Yes, we finished third overall that day and that was one of the most memorable moments of my career … that, and winning the veterans' world championship in England last season. There have been a few highlights for me – the Motocross of Nations in 1998, finishing world championship runner-up twice, in 1997 and 1998, and my five Grand Prix victories, including a special one at Namur, in Belgium, in 1997.
"This is why I love the sport so much – So many fond memories; so many great times.
"At the moment I'm building up to head back to England at the end of August to defend my world title. That's my ultimate goal for 2013. Then I will return to contest at least one more season of the New Zealand Motocross Championships, either in the MX1 or MX2 class, I'm not sure which.
"I'm not sure whether I will race the Yamaha YZ450F or YZ250 bike this weekend, but I really do need to spend some time on the big four-stroke because that's what I will race in England. They are both great bikes and I'll just have to see on the day."
King raced a Yamaha YZ250 to win back-to-back New Zealand MX2 crowns in 2011 and 2012, but had to give that up to fellow Yamaha ace Scott Columb (Yamaha YZ250F) this season. He would like nothing better that to sign off his career with another national title in 2014.
© Words and photo by Andy McGechan, www.BikesportNZ.com