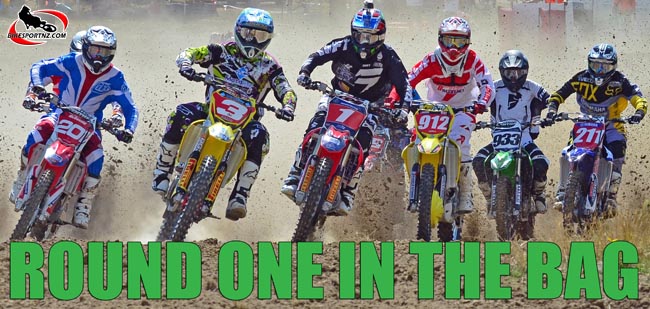 The first blows have been struck in this season's New Zealand Motocross Championships and the competition is reeling.
Mount Maunganui's Cody Cooper and Queenstown's Scotty Columb have staked their claims for national honours and Otago's Courtney Duncan has made a very strong point after the first round of four in this season's Backflips Clothing-sponsored series.
Suzuki's Cooper has built a nine-point advantage in the chase for MX1 (450cc) class honours and Yamaha's Columb has leapt to a 10-point lead in the MX2 (250cc) category after round one at Pleasant Point, just outside Timaru, on Sunday.
Cooper finished 2-1-3 in his three outings to head off joint runners-up Billy MacKenzie (Yamaha), of Scotland, and Kirk Gibbs (KTM), of Australia.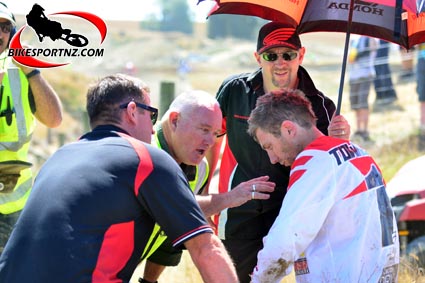 Defending MX1 champion Ben Townley (Honda), of Tauranga, convincingly won the day's opening MX1 race but then sensationally crashed out of the event. He was taken to hospital and later released, battered and bruised but otherwise intact.
In the MX2 class, Yamaha's Columb finished 1-2-1 to edge out defending champion Darryll King (Yamaha), of Hamilton, and Australian first-time visitor Brock Winston (KTM).
Meanwhile, in the 125cc class, Palmerston teen sensation Duncan (Yamaha) dominated the races and then promptly revealed that she would not be available to contest the remaining rounds as international duty beckons.
This means that Sunday's runner-up in the 125cc class, Rotorua's Cameron Vaughan (Yamaha) and third-ranked finisher Logan Blackburn (Yamaha), of Te Puke, will have extra incentive to push at the next round – at Patetonga in a fortnight – when the championship lead will be there for the taking.
More stories to come …
STANDINGS AFTER ROUND ONE:
Leading results from the opening round of the New Zealand Motocross Championships at Pleasant Point, near Timaru, on Sunday:
MX1 class:
1. Cody Cooper (Mount Maunganui, Suzuki) 67 points;
2= Billy MacKenzie (Scotland, Yamaha) and Kirk Gibbs (KTM, Australia) 58;
4. Justin McDonald (Christchurch, Honda) 49;
5. Todd Waters (KTM, Australia) 45.
MX2 class:
1. Scott Columb (Queenstown, Yamaha) 72;
2. Darryll King (Hamilton, Yamaha) 62;
3. Brock Winston (Australia, KTM) 61;
4. Rhys Carter (Mount Maunganui, Suzuki) 49;
5. Jesse Dobson (Australia, Kawasaki) 47.
125cc class:
1. Courtney Duncan (Otago, Yamaha) 67;
2. Cameron Vaughan (Rotorua, Yamaha) 64;
3. Logan Blackburn (Te Puke, Yamaha) 62;
4. Cohen Chase (Taupo, KTM) 50;
5= Cameron Negus (Rotorua, Husqvarna) and Aaron Wiltshier (Tauranga, KTM) 45.
© Words and photos by Andy McGechan, www.BikesportNZ.com