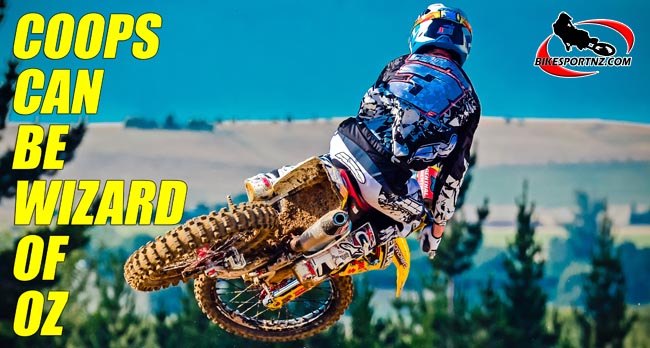 Team Motul Pirelli Suzuki has announced that Cody Cooper and Matt Moss will make up the team's official rider line-up in the 2013 MX Nationals, Australian Motocross Championship, focusing on the premier MX1 category with the all new RM-Z450.
New Zealand's Cooper, fresh from winning last weekend's opening round of the New Zealand Motocross Championship, will return for his fourth consecutive season with Suzuki's factory race team in Australia aboard the all new 2013 model RM-Z450.
After finishing third in last year's MX Nationals series, the likeable 29-year-old Kiwi from Mount Maunganui is confident that he can progress into a championship contender when it starts at Raymond Terrace, New South Wales, in April.
"I'm really happy to be back with Motul Pirelli Suzuki and riding the RM-Z450," Cooper said. "I've been with Jay Foreman and the team since I returned from the US in 2010, so it's definitely good to enter the season with familiar surroundings and I hope to really challenge for the MX1 title in 2013."
Moss will be reunited with Motul Pirelli Suzuki for a full season in 2013, stepping up to the premier MX1 category alongside Cooper on the RM-Z450. At age 24, Moss already has five national Lites titles to his name – three of those coming with Suzuki in 2008 and 2009.
After spending much of last season in the United States, Moss returned home to join Motul Pirelli Suzuki for supercross, however injury at the opening round sidelined him for the series remainder. Now recovered and in training for the upcoming outdoor season, he's hopeful that this year will mark a great opportunity to win further titles with Suzuki.
"I'm excited to be back with Suzuki and I really want to focus on a successful season ahead," Moss explained. "I feel like I will be ready for the opening round and I am looking forward to the challenges ahead in the MX1 class.
"I think I could have stepped up to MX1 a year or two earlier, but I really wanted to try and race in America, so that's why I had stayed on a Lites bike. For this year I will step up full time and I have learnt a lot winning titles on the RM-Z250 in the past with Jay and the team. Now it's up to me to carry that form over to the 450."
Team manager Foreman is excited at the prospect of having Cooper and Moss on board for the MX Nationals, the Motul Pirelli Suzuki team opting to focus on the MX1 category with Suzuki's revised 2013 model RM-Z450 this year.
"It's shaping up to be a great team effort this season," Foreman said. "We were able to finish second and third in the series last year, so this year it will be a great challenge to go one better with Cody and Matt. Cody is in great shape, he's really determined and has been really impressive during the pre-season.
"Matt is Matt – you always know he will have the speed to be in there battling for the championship. We're excited to have him back, he has had surgery during the off-season and has had his bike for a couple of weeks now. The 2013 RM-Z450 is a real improvement, making it very straightforward for us to develop as we're starting with such a good package in production trim."
Suzuki Australia's General Manager, Motorcycles Perry Morison welcomed the combination of Cooper and Moss to the Motul Pirelli Suzuki team for the new year, continuing the brand's relationship with Foreman for the 18th season since it was first established in 1996. Morison is also pleased to continue Suzuki's relationship with Link International, confirming Motul and Pirelli as the team's title sponsors.
"This year will be an exciting one for Motul Pirelli Suzuki and we look forward to having both Cody and Matt on board the RM-Z450," Morison said. "Jay Foreman does a tremendous job running our factory race program and it is great to welcome Motul and Pirelli, along with all of our team partners, for season 2013."
The opening round of the MX Nationals, the Australian Motocross Championships, will take place at Raymond Terrace in New South Wales on Sunday, April 14.
© Photo by Andy McGechan, www.BikesportNZ.com