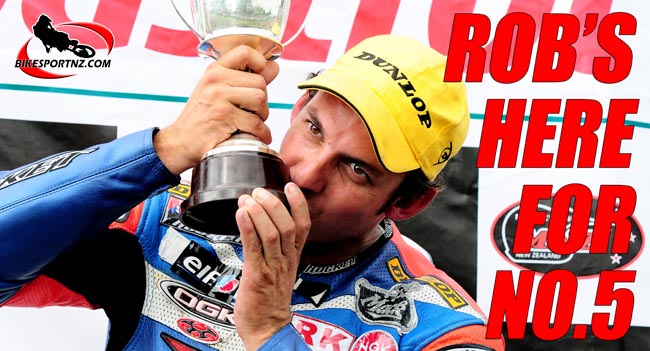 Could an Australian take away the Kiwi silverware again this summer?
Plenty of fans certainly think that Brisbane's defending New Zealand Superbike Champion Robbie Bugden can win here again, especially with nine-time former Superbike Champion and main rival Andrew Stroud sidelined recently with serious injury.
"I'm here to try win to my fifth New Zealand Superbike Championship. I know I'm ready! And my team, Triple R Suzuki, are ready too," said Bugden.
The 2013 series kicks off at Powerbuilt Raceway in Christchurch this weekend and, although Bugden must surely rate as the superbike class favourite, there are again plenty of Kiwi heroes ready to step forward and challenge him.
The recent Suzuki Tri Series superbike class winner, Christchurch's Dennis Charlett (Underground Brown Suzuki), is one such candidate, along with the man who finished a close and unlucky runner-up in the Tri Series, Wellington BMW rider Sloan Frost.
Feilding's Craig Shirriffs (Suzuki), Christchurch's James Smith (Castrol Honda), Auckland's Ray Clee (RCM Suzuki), Christchurch's John Ross (Repsol Suzuki), Hamilton's Nick Cole (Red Devil Racing Kawasaki), New Plymouth's Hayden Fitzgerald (Suzuki) and Christchurch's Ryan Hampton (Honda) also rate as likely race winners and potential title winners too.
In addition to putting points on the scoreboard at the opening round, the riders will also be hunting for the New Zealand Superbike Grand Prix Title this weekend, that one-race special prize on offer as part of this weekend's programme.
Bugden was New Zealand superbike class champion three times consecutively between 2007 and 2009, and while his back-to-back race wins at the final round at Taupo last season earned him his fourth New Zealand superbike title – with an eventual winning margin of 37.5 points over Stroud – he was quick to comment at the time "this was the toughest championship yet".
If his New Zealand superbike rivals have news for him, it probably sounds like this: "You ain't seen anything yet Robbie".
The weekend's programme includes races for 600cc supersport bikes, superlite and Pro Twin classes, 125GP bikes, 250cc production bikes, buckets, clubmen and sidecars.
2013 NZ SUPERBIKE CHAMPIONSHIP CALENDAR
Round 1:  Powerbuilt Raceway – Christchurch, January 5-6.
Round 2:  Levels Raceway – Timaru, January 12-13.
Round 3:  Teretonga Park – Invercargill, January 19-20
Round 4:  Hampton Downs Raceway – Waikato, March 16-17
Round 5: Ricoh Taupo Motorsport Park – Taupo, March 23-24
© Words and photo by Andy McGechan, www.BikesportNZ.com