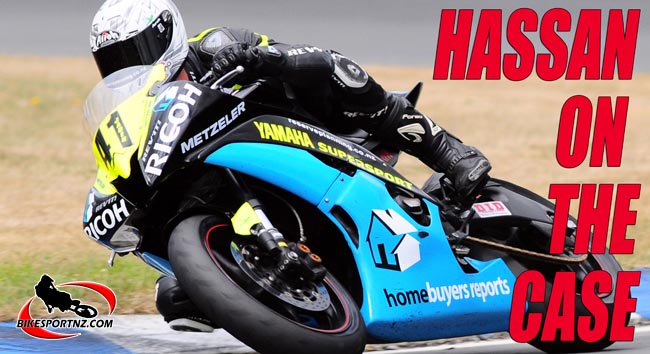 The New Zealand Superbike season is just around the corner and already Auckland's Jaden Hassan has his rivals sitting up and taking notice.
The Yamaha hero will again race a Yamaha R6 in the Formula Two class at the popular stand-alone Tri Series and also campaign the 600cc bike in the five-round New Zealand Superbikes Championships that follow.
The 18-year-old Aucklander was unstoppable at the weekend's Auckland Motorcycle Club Championships round at Hampton Downs, scorching to back-to-back wins in the F2 class against many of the men who will be his rivals in both the Tri Series and in the nationals.
The alarm bells will surely be ringing too, because it's at Hampton Downs that the season gets underway with the opening round of the Tri Series this Saturday.
"It felt really good to be back on a bike after breaking my wrist in Australia in October," said Hassan.
"I was able to hang onto the back of the (1000cc) superbikes of James Smith (Honda) and Andrew Stroud (Suzuki) when the track was damp. They left me behind a bit when it was dry though," he laughed.
"My Homebuyers Reports Yamaha R6 is going to be pretty competitive for the nationals. It's a little bit stronger in the mid range compared to last year's bike and I reckon, with a few more tweaks, I'll get even more out of it.
"It was nice to win both F2 races at the weekend but I'm not reading too much into it, but it is definitely a confidence-builder. I'm looking forward to this weekend."
Fellow Yamaha ace Toby Summers, also from Auckland, impressed with his debut outing on the R6 Yamaha, twice finishing runner-up to Hassan in the F2 class.
Summers is more accustomed to racing a modified Yamaha YZ450F dirt bike in the super motard category, a class where he is the reigning Tri Series champion, but he's "having a crack" at the F2 class as well this season and seems to be a very fast learner.
Meanwhile, in the Formula One class, Wellington's Sloan Frost (BMW) was similarly impressive, winning both races at Hampton Downs on Sunday.
Defending Tri Series F1 champion Stroud was runner-up on both occasions, with Auckland's Ray Clee (Suzuki) also looking good.
CALENDAR:
2012 Suzuki Tri Series
Round 1, December 8, Hampton Downs
Round 2, December 16, Manfeild
Round 3, December 26, Wanganui streets
2013 NZ Superbike Championships:
Round 1, January 5 & 6, 2013, Christchurch
Round 2, January 12 & 13, 2013, Timaru
Round 3, January 19 & 20, 2013, Invercargill
Round 4, March 16 & 17, 2013, Hampton Downs
Round 5, March 23 & 24, 2013, Taupo
© Words and photos by Andy McGechan, www.BikesportNZ.com