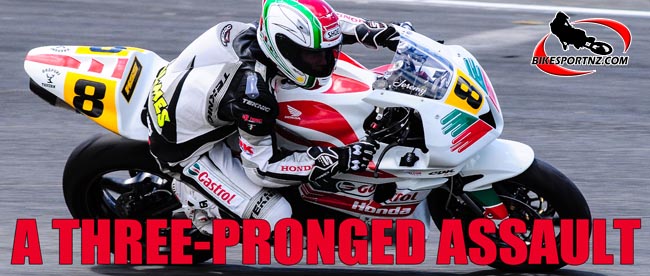 There could be as red streak running through this summer's New Zealand motorcycle road-race season.
That is certain to be the case if the men from Honda have anything to do with it.
Blue Wing Honda has just officially announced its new three-rider team to campaign all the major races on the New Zealand calendar this summer – the first of those being the Suzuki Tri Series opener at Hampton Downs, near Meremere, on December 8.
Following the Hampton Downs races, the riders head to Manfeild, near Palmerston North, for round two of the Tri Series the following weekend, with the third and final round set for the public streets of Wanganui, on the famous Cemetery Circuit, on Boxing Day.
The high-profile Castrol Honda Superbike team will comprise Whakatane's multi-time former national champion Tony Rees, Christchurch's perennial title challenger James Smith and long-time Honda stalwart Jeremy Holmes, from Invercargill.
"Tony (Rees) brings a wealth of experience to the team," said Castrol Honda Superbike Team manager Peter Finlay, of Auckland.
"He will be a big inspiration to the younger riders.
"James (Smith) is a new face in the team this year too and we are very excited about that. He is a perennial frontrunner in the superbike class and a real asset. He rode the CBR1000RR Fireblade for the first time in September and felt right at home straight away, clocking one of his fastest ever times around Hampton Downs.
"Jeremy (Holmes) returns for us and he will again race the 600 supersport class. He is a solid rider and always in the points.
"We are, of course, very happy to again have support from Castrol. I'm sure that will make this a very slick team indeed."
The 45-year-old Rees said he was "really looking forward" to his first outing on the new Fireblade.
"I was only going to do the Wanganui streets meeting, because it's the 60th anniversary of that this year, but then I thought I may as well do the whole Tri Series and it all just snowballed from there.
"You never forget how to ride a bike, but it's getting up to speed and being sharp that's the challenge. I enjoy challenges like those."
What follows the Suzuki Tri Series is the five-round New Zealand Superbike Championship series, starting at Ruapuna, on the outskirts of Christchurch, on January 5-6.
Throughout all of this intense competition, the Honda trio know they will have their work cut out to tame four-time consecutive Tri Series F1 winner Andrew Stroud (Suzuki), of Hamilton, along with a slew of other top riders, including Christchurch rider Dennis Charlett (Suzuki), Hamilton's Nick Cole (Kawasaki), Wellington's Sloan Frost (BMW), Feilding's Craig Shirriffs (Suzuki) and Taranaki's Hayden Fitzgerald (Suzuki), with international visitor Thomas Kreutz (Yamaha) also expected to challenge for the title.
CALENDAR:
2012 Suzuki Tri Series
Round 1, December 8, Hampton Downs
Round 2, December 16, Manfeild
Round 3, December 26, Wanganui streets
2013 NZ Superbike Championships:
Round 1, January 5 & 6, 2013, Christchurch
Round 2, January 12 & 13, 2013, Timaru
Round 3, January 19 & 20, 2013, Invercargill
Round 4, March 16 & 17, 2013, Hampton Downs
Round 5, March 23 & 24, 2013, Taupo
© Words and photo by Andy McGechan, www.BikesportNZ.com