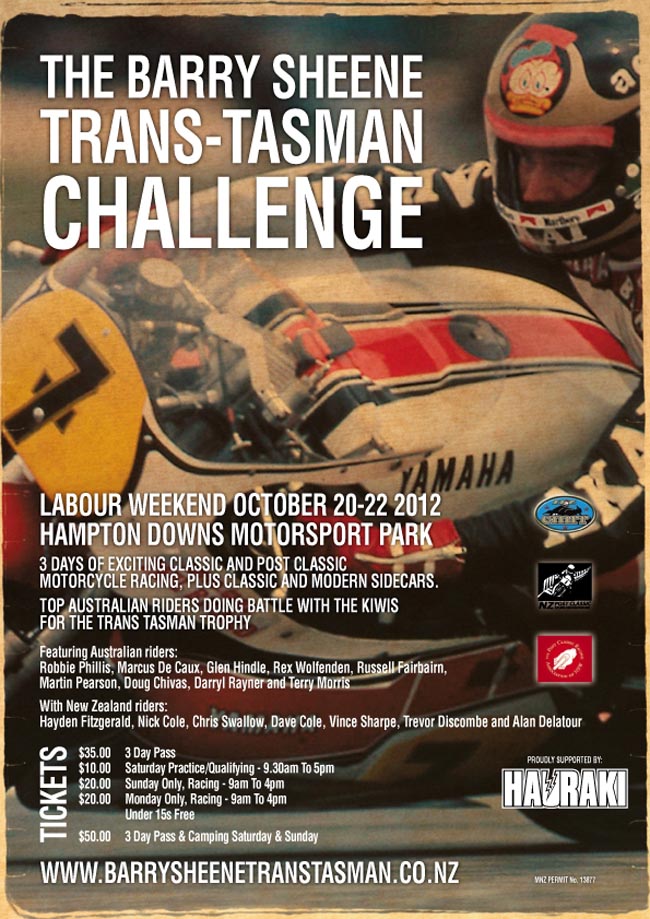 The Australians are coming in force.
A team of 40 competitors, led by 'Mr Superbike' Robbie Phillis (pictured below), will take on New Zealand in the Barry Sheene Trans Tasman Challenge at Hampton Downs this Labour Weekend, Oct 20-21-22.
The meeting is New Zealand largest ever International Road Race meeting with 250 riders on 350 machines, surpassing the final Marlboro Series in the late 1970s. The New Zealand team includes former National Champions Vince Sharpe, Alan DeLatour, Dave Cole, Mike Pero, Paul Pavelitich and Trevor Discombe, to name a few. The Kiwi young guns include Hayden Fitzgerald, Nick Cole and Chris Swallow all with recent international success in Australia, IOM or the USA.
The New Zealand Classic Motorcycle Racing Register (Est. 1978) is hosting this event in association with The New Zealand Post Classic Racing Association and the New Zealand Sidecar Racing Association.
The event features three days of racing, classics and classic superbikes for the New Zealand Classic Tourist Trophy's, the New Zealand Post Classic Grand Prix's and Gold Cup Series along with the Barry Sheene Trans-Tasman Challenge Trophy. Additional to these events will be selected feature races and New Zealand and Australian classic and modern sidecars in action.
The Australian Team includes 2 x Isle of Man TT Winner Cameron Donald just back from riding for the official UK Honda Team in the Le Mans 24hr and two podium seconds in the Isle of Man Supersport and Formula 1 races,  Doug Chivas the NZ, Australian and USA Sidecar Champion on a rapid TZ750 Yamaha outfit who is so quick he will race with the modern New Zealand outfits.
Then they have Bathurst Champion & Marlboro Series Star Marcus De Caux on a Bimota 400 and Harley Davidson RR250, Australian Post Classic Champions Martin Pearson and his Suzuki 500 triple described as a 'TZ350 on steriods', Gen Hindle on the Maxton TZ350 and Terry Morris on his Nico Bakker TZ 350 Yamaha, all very quick riders. Team Captain Robbie Phillis is just back from six months in Europe with his 18 yr old son riding for Kawasaki.
Robbie was several times Australian Superbike Champion and Kawasaki Works rider achieving third place in the 1991 & 1992 World Superbike Championships, with four wins and twenty-three podiums.
For further event details go to www.barrysheenetranstasman.co.nz
Photo courtesy Motorcycle Trader Australia