The BikesportNZ.com photo archive is a treasure trove of classic old snaps.
We have decided that each week we are going to run an archive photo or two – a bit of a guessing game for you. See if you can answer the questions about BOTH photos.
We'll offer you a few clues, but we also want to keep you guessing.
Check back and we'll give you the answers next week, along with our next "Who's that?" feature photos.
Crown Kiwi – EVS – Alpinestars – 100%
Plus, we have a sponsor for the feature. Thanks to Crown Kiwi, EVS, Alpinestars and 100% apparel and accessories, we can offer a small prize each week – a tee-shirt or a cap – to the first respondent with the correct answers.
The winner of our last quiz was Alain Mudgway, who was the first to correctly identify the riders in the two photos.
Clues for photo above:
This photo shows a young man who, at the time, was fast rising up the New Zealand road-racing ranks. The photo was taken in 2007. Who is it?
We do also need you to answer the question about the photo below.
Clues for photo below:
This photo shows a trio of young South Island road bike racers, horsing around in the pits at Manfeild four years ago. Can you name all three?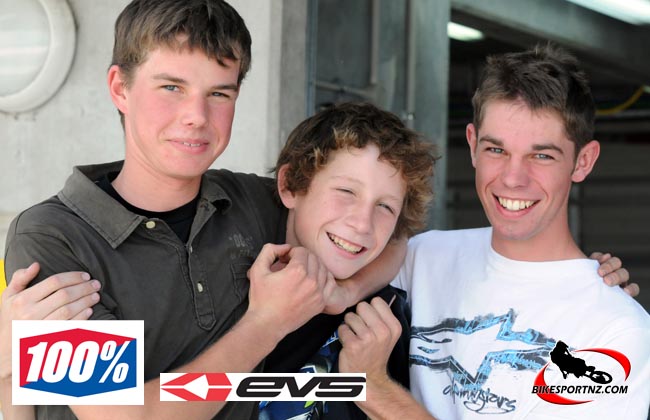 Last week's characters revealed:
The main rider featured last week featured a crash at the annual Woodville Motocross. We asked you to name him.
It was Kiwi Rider magazine tester Ollie Sharp, that day riding one of Darryll King's bikes as part of a project ride for the magazine.
The second photo showed a Kiwi rider in action internationally.
It was Motueka's Josh Coppins, then riding for the CAS Honda team, seen in action for New Zealand at the Motocross of Nations at Matterley Basin, near Winchester, in England, in 2006.
That year was an important one for Team New Zealand because – alongside team-mates Cody Cooper and Ben Townley – Coppins earned another podium finish for his country.
New Zealand finished third that year, behind the United States and Belgium.
Email your answers to this week's quiz to contest@bikesportnz.com
Note: Be careful to answer the questions being asked. We may ask for a time, a place, an event or ask for one or several of the individuals in the two photos to be identified.
© Photos by Andy McGechan, www.BikesportNZ.com