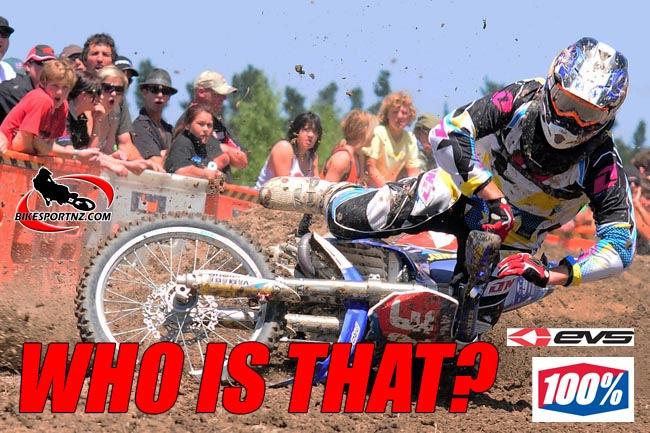 The BikesportNZ.com photo archive is a treasure trove of classic old snaps.
We have decided that each week we are going to run an archive photo or two – a bit of a guessing game for you. See if you can answer the questions about BOTH photos.
We'll offer you a few clues, but we also want to keep you guessing.
Check back and we'll give you the answers next week, along with our next "Who's that?" feature photos.
Crown Kiwi – EVS – Alpinestars – 100%
Plus, we have a sponsor for the feature. Thanks to Crown Kiwi, EVS, Alpinestars and 100% apparel and accessories, we can offer a small prize each week – a tee-shirt or a cap – to the first respondent with the correct answers.
The winner of our last quiz was Wellington's Sloan Frost, who correctly identified the riders in the photos.
Clues for photo above:
This photo shows a man crashing at the annual Woodville Motocross. Who is it?
We do also need you to answer the question about the photo below.
Clues for photo below:
This photo shows a Kiwi in action internationally. Who is he and where is he racing that day?
Last week's characters revealed:
The main rider featured last week featured a crash at Manfeild during a Victoria Motorcycle Club Actrix Winter Roadrace Series event.
We asked you to name the rider who is crashing and the two riders behind him, riders No.6 and No.47.
The rider crashing is Palmerston North's Peter Tanner, while the riders directly behind him are Sloan Frost (No.6) and Glen Skachill (No.47).
The second photo showed a Kiwi rider in the pits at Manfeild in the 1990s.
He went on to great things internationally and is still heavily involved with the sport.
We wanted you to name him, tell us where he was from (what New Zealand town) and also tell us what was probably regarded as his greatest achievement internationally?
It was of course Simon Crafar, from Waiouru (although we would have accepted Taihape). His 500cc (MotoGP) win at Donington Park in 1998 was regarded as his career best result.
In 1994 he had joined countryman Aaron Slight on a semi-works Rumi Honda RC45 in the Superbike World Championship. After coming 5th overall in 1994, he started the 1995 season with Rumi Honda before replacing American rider Doug Polen as the second factory rider alongside Slight, although they raced under different liveries.
The bike gradually became more competitive, and Crafar was strong in the later part of 1995, coming second in race one at Assen. He then spent two years with the Kawasaki racing team, scoring only one podium during the 1996 season finishing in 7th position.
In 1997 he took two runner-up finishes and five third placings in addition to one pole position and fastest lap to again finish 5th overall. In total he scored 10 podiums – four 2nds and six 3rds but, sadly, no wins in the series.
He rode a WCM Yamaha YZR500 in the 500cc world championship for 1998, winning at Donington Park (the last win for Dunlop in a dry race and the only non Honda win during the 1998 season and at Donington Park in 6 years) and finishing 7th in the standings, scoring two further podiums – one 2nd and one 3rd during the season with two fastest race laps – Donington Park and Phillip Island.
He remained with the team for the early part of 1999, scoring points on five occasions. The WCM team changed to Michelin between seasons and Crafar found he could not replicate the same level of success as he had the previous year on Dunlop tyres and they parted company midway through the 1999 season.
Crafar also took 10th on a one off ride on an MuZ at Donington Park during the same year. In total he has contested 32 500cc races, taking three podium finishes.
He returned to World Superbike for 2000 as a substitute rider for Slight for two rounds. In 2002 he raced in British Superbike for the Virgin Mobile Yamaha team, coming 8th overall with two 3rd place finishes. He retired from motorcycle racing at the end of the 2002 season to spend more time with his wife and children and continues to live in Andorra.
Following his retirement from road racing, Crafar continued to enjoy Extreme Enduro competing in the Red Bull Romaniacs competition held in Romania winning the Expert Class during 2007.
During 2008 and 2009 Crafar worked with the organisers of the Red Bull Romaniacs competition assisting in the design and mapping of the course sections. During 2009 he was involved in a serious accident with a car whilst planning for the 2009 event that resulted in a broken back.
Thankfully Crafar underwent a successful operation to insert a metal plate and screws into his back that has resulted in a near perfect recovery.
Since 2006 Crafar has been involved in on-circuit rider instruction for both track day riders and professional racers and has personally taught more than 600 people on a one-to-one basis in a little over six years.
Email your answers to this week's quiz to contest@bikesportnz.com
Note: Be careful to answer the questions being asked. We may ask for a time, a place, an event or ask for one or several of the individuals in the two photos to be identified.
© Photos by Andy McGechan, www.BikesportNZ.com