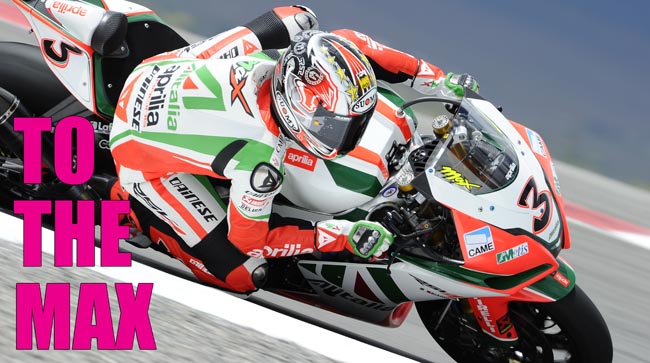 Italy's Max Biaggi returned to the top of the World Superbike standings at the weekend with his first win in more than two months, even if a race two crash prevented him from stretching away.
Biaggi admitted he was disappointed not to further his advantage in the World Superbike Championship standings following his costly crash in race two at the Nurburgring, the 12th round of 14 in the WSBK Championship, although he was otherwise thrilled to get back to his best form across the weekend.
The Aprilia rider came into the event 18.5 points adrift of Marco Melandri having only managed a single podium finish in the seven races leading to the Nurburgring, but showed signs of a revival by claiming his first pole position of the season in qualifying.
Settling into second position behind Tom Sykes at the start of race one, Biaggi struck to the front on lap 12 before cruising to the chequered flag for his first victory since Motorland Aragon in July. Coupled to Melandri's failure to finish, Biaggi not only overturned the deficit, he was also able to move 6.5 points ahead.
"In race one I got off to a good start and then Sykes set a mad pace. When I saw him starting to slow I risked overtaking. I thought maybe it was a strategy he was using, but then the gap widened so I pushed hard until the chequered flag came out.
Keen to progress further during race two, Biaggi's hopes of extending that lead seemed to be scuppered on the opening lap when he lost his Aprilia under braking for the NGK chicane.
Seemingly set to hand the initiative back to Melandri, a determined Biaggi remounted to fight back to 13th position and was duly rewarded when his arch rival crashed out again up ahead. As a result, he leaves Germany with a 9.5 point advantage over Melandri.
"It was a shame about the crash in the first lap of race two. I braked without overdoing it, but then I hit a bump and I couldn't do anything about the slide. I'm disappointed because after that I was riding well with a leading pace.
Despite the error, Biaggi was satisfied with his strong pace throughout the weekend and he is confident he can replicate that at the penultimate event in Portugal.
"Given what had happened, we contained the damage and we're leaving the Nürburgring with the leadership. It could have been worse, but we could also have done a repeat of the good result in race one. In Portimao we'll be starting almost from scratch. The battle is close, but we'll be in it until the end."
RESULTS:
RACE TWO:
1. Chaz Davies GBR ParkinGO MTC Aprilia RSV-4 20 Laps
2. Eugene Laverty IRL Aprilia Racing RSV-4 +3.022s
3. Leon Camier    GBR Crescent Fixi Suzuki GSX-R1000 +3.222s
4. Jonathan Rea GBR Honda WSBK CBR1000RR +5.705s
5. Tom Sykes GBR Kawasaki Racing ZX-10R +7.304s
6. Carlos Checa   ESP Althea Ducati 1098R +7.541s
7. Davide Giugliano      ITA Althea Ducati 1098R +14.709s
8. Loris Baz FRA Kawasaki Racing ZX-10R +19.782s
9. Ayrton Badovini       ITA BMW Italia Goldbet S1000RR +19.925s
10. Sylvain Guintoli FRA PATA Ducati 1098R +20.028s
11. Lorenzo Zanetti ITA PATA Ducati 1098R +25.663s
12. John Hopkins USA Crescent Fixi Suzuki GSX-R1000 +29.142s
13. Max Biaggi ITA Aprilia Racing RSV-4 +29.579s
14. Maxime Berger FRA Effenbert Liberty Ducati 1098R +36.090s
15. Hiroshi Aoyama JPN Honda WSBK CBR1000RR +40.912s
16. Lorenzo Lanzi         ITA Liberty Effenbert Ducati 1098R +50.401s
17. Norino Brignola ITA Grillini Progea BMW S1000RR +3 laps
Not Classified
18. Brett McCormick CAN Effenbert Liberty Ducati 1098R 15 laps completed
19. Leon Haslam  GBR BMW Motorrad S1000RR 9 laps completed
20. Marco Melandri ITA BMW Motorrad S1000RR 8 laps completed
21. Michel Fabrizio ITA BMW Italia Goldbet S1000RR 8 laps completed
22. Alexander Lundh SWE Pedercini Kawasaki ZX-10R 6 laps completed
Did Not Start
Niccolo Canepa ITA Red Devils Ducati 1098R
David Salom ESP Pedercini Kawasaki ZX-10R
Fastest lap
Carlos Checa ESP Althea Ducati 1098R 1m 56.148s
RACE ONE:
1. Kenan Sofuoglu TUR Kawasaki Lorenzini ZX-6R 18 laps
2. Jules Cluzel FRA PTR Honda CBR600RR +0.541s
3. Fabien Foret FRA Intermoto Step Kawasaki ZX-6R +6.258s
4. Broc Parkes AUS Ten Kate Honda CBR600RR +10.345s
5. Alex Baldolini  ITA Power Team Suriano Triumph 675 +18.303s
6. Gabor Talmacsi HUN ProRace Honda CBR600RR +22.366s
7. Vittorio Iannuzzo ITA Power Team Suriano Triumph 675 +27.230s
8. David Linortner AUT GERIN-MKT Yamaha YZF-R6 +33.213s
9. Ronan Quarmby RSA PTR Honda CBR600RR +33.526s
10. Massimo Roccoli ITA PATA by Martini Yamaha YZF-R6 +35.932s
11. Romain Lanusse FRA Intermoto Step Kawasaki ZX-6R +36.146s
12. Florian Marino FRA MSD RN India Kawasaki ZX-6R +39.446s
13. Sam Lowes GBR Bogdanka PTR Honda CBR600RR +41.099s
14. Andrea Antonelli    ITA Bike Service Yamaha YZF-R6 +47.345s
15. Jed Metcher AUS Team RivaMoto Yamaha YZF-R6 +47.477s
16. Miguel Praia POR Bogdanka Honda CBR600RR +47.865s
17. Balazs Nemeth HUN Team Toth Honda CBR600RR +48.190s
18. Dino Lombardi ITA Lorini Honda CBR600RR +55.295s
19. Martin Jessopp GBR Riders PTR Honda CBR600RR +1m 10.222s
20. Imre Toth HUN Team Toth Honda CBR600RR +1m 10.796s
21. Leon Bovee NED DTC Yamaha YZF-R6 +1m 22.093s
22. Danilo Marrancone ITA KUJA Honda CBR600RR +1m 22.437s
23. Luca Hansen GER SMS Honda CBR600RR +1m 25.483s
24. Yves Polzer    AUT MRC Austria Yamaha YZF-R6 +1m 46.818s
DQ Vladimir Leonov FRA Yakhnich Yamaha YZF-R6
Not Classified
25. Luca Marconi ITA VFT Yamaha YZF-R6 17 laps completed
26. Roberto Tamburini ITA Lorini Honda CBR600RR 16 laps completed
27. Sheridan Morais RSA Kawasaki Lorenzini ZX-6R 5 laps completed
28. Dan Linfoot GBR MSD RN India Kawasaki ZX-6R 4 laps completed
29. Eduard Blokhin       RUS RivaMoto Yamaha YZF-R6 4 laps completed
30. Fabio Menghi ITA VFT Yamaha YZF-R6 0 laps completed
31. Mathew Scholtz RSA Bogdanka PTR Honda CBR600RR 0 laps completed
Not Classified
Joshua Day USA GoEleven Kawasaki ZX-6R
Fastest lap
Sam Lowes GBR Bogdanka PTR Honda CBR600RR 2m 00.222s
CHAMPIONSHIP STANDINGS:
1       Max Biaggi Aprilia Racing 318
2       Marco Melandri    BMW Motorrad 309
3       Tom Sykes Kawasaki Racing 292
4       Carlos Checa       Althea Ducati 248
5       Jonathan Rea      Honda WSBK 226
6       Eugene Laverty   Aprilia Racing 214
7       Leon Haslam       BMW Motorrad 189
8       Chaz Davies        ParkinGO MTC Aprilia 157
9       Sylvain Guintoli   Effenbert Liberty Ducati/PATA Ducati 144
10     Davide Giugliano Althea Ducati 125
11     Michel Fabrizio    BMW Italia GoldBet 120
12     Leon Camier        FIXI Crescent Suzuki 105
13     Ayrton Badovini   BMW Italia GoldBet 99
14     Loris Baz    Kawasaki Racing 98
15     Jakub Smrz Liberty Effenbert Ducati 93
16     Maxime Berger    Effenbert Liberty Ducati 74
17     Lorenzo Zanetti   PATA Ducati 61
18     Hiroshi Aoyama   Honda WSBK 52
19     Niccolò Canepa    Red Devils Roma Ducati 43
20     John Hopkins       FIXI Crescent Suzuki 35
21     David Salom        Pedercini Kawasaki 19
22     Joan Lascorz       Kawasaki Racing 17
23     Leandro Mercado Pedercini Kawasaki 9
24     Peter Hickman     FIXI Crescent Suzuki 7
=      Matteo Baiocco    Barni Ducati 7
26     Bryan Staring      Pedercini Kawasaki 6
27     Alex Polita  Red Devils Roma Ducati 4
=      Alexander Lundh Pedercini Kawasaki 4
29     Norino Brignola   Grillini Progea BMW 3
=      Mark Aitchison    Grillini Progea BMW 3
31     Lorenzo Lanzi      Effenbert Liberty Ducati 2
32     Brett McCormick  Effenbert Liberty Ducati 1
=      Joshua Brookes   Crescent Fixi Suzuki 1