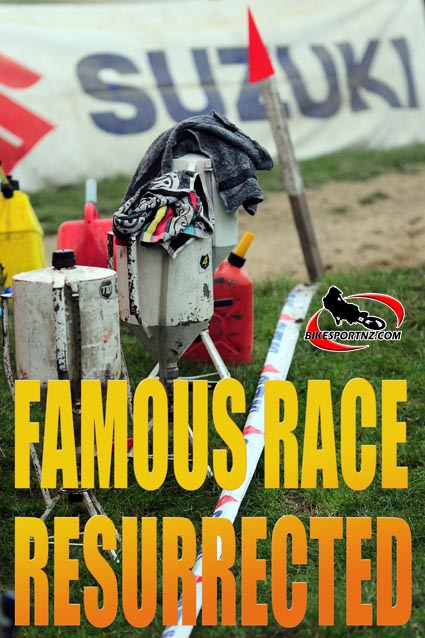 The king is dead; long live the king.
Yes, it had looked like the nominal king of New Zealand's big annual six-hour dirt bike marathons, traditionally held each year in Hawke's Bay, was again not going to happen this year because of damage done by heavy rains in the region.
The race was also abandoned in 2010 and last season as well, for similar reasons.
But before the country's many hundreds of dirt bike racers despair, news has arrived this week that it actually will go ahead this year, on October 6, albeit in a different province.
Re-named simply the Suzuki Six-Hour, the fabled event is now in the care of former national enduro champion and long-time friend of the sport Sean Clarke and it will take place at a well-known venue called The Pylons, at Atiamuri, just south of Tokoroa.
Following on from the overwhelming success of the Clarke-run Dirt Guide Cross-country Championship series, the Suzuki Six-Hour is bound to attract the cream of New Zealand's dirt bike elite.
"It will be an honour to run this event," said Clarke, himself a past winner of the race and a recent Kiwi international with numerous titles to his credit.
"We aim to keep up the high standard of the event that Dave and Lyn Youren have set – the organisers of the Hawke's Bay Six-Hour event. It will be a difficult task to match them, but I am sure we can do it.
"The course will be 35 kilometres long, which will include both the junior and senior tracks used for the Dirt Guide series.
"I have run the bulldozer around about 90% of the course since the Dirt Guide series finished in June, so the track will be in good shape.
"The Pylons is a good area because the soil is the most free-draining around here and that means the weather doesn't affect it that badly."
Clarke said entry forms and more details would be released shortly.
The 2010 and 2011 editions of the big race were also cancelled, because of weather damage and the last-minute withdrawal of landowner's consent.
The last time the Suzuki Six-Hour was staged in Hawke's Bay, in October 2009, it was won by Auckland cousins Karl and Chris Power.
Some of the past stars of this great event include Daryl Hurley, Michael Phillips, Mark Penny, Darryll King, Steven Croad, Adam Youren, Kevin Archer, Chris Birch, Mark Fuller, John McKee, Cam Mabey, Ben Thomasen, Cam Negus, Scott Columb and Cody Cooper, to name just a few.
Even BikesportNZ.com staff, including Andy McGechan, have contested this event in the past.
© Photo by Andy McGechan, www.BikesportNZ.com