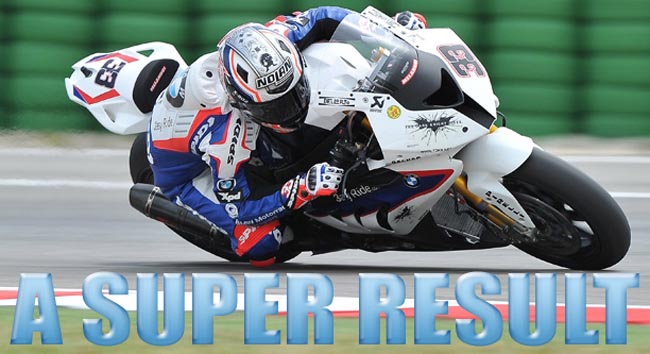 Italy's Marco Melandri has rocketed into second place in the World Superbike Championship chase after scoring a tough third win of the season at Motorland Aragon, in Spain, the 8th round of 14 at the weekend.
Coming into race day as a hot favourite for victory having shown a searing turn pace ahead of Superpole, though BMW's Melandri started both races from the second row in fifth place, he quickly shuffled his way to the front group on each occasion.
Getting embroiled in an absorbing tussle with Aprilia's Max Biaggi during race one, the pair would swap the lead several times before Biaggi got the break on the penultimate lap to deny an admittedly 'disappointed' Melandri.
"In race one we had a good battle and I just missed a little bit of speed in the end to try to beat Max. In the beginning I first had to overtake Eugene Laverty and Tom Sykes. Then I had to push hard to catch up with Max who was leading.
"Once I was there, I tried to overtake him, but it was not easy as I struggled with my rear tyre. When I was in front, I would have preferred to make it difficult for him to pass me back, but he overtook me quite easily. He was faster than me and on the last lap it was hard for me to follow him. It is always nice to be on the podium, but I have to admit that I was a bit disappointed after race one."
Despite this, a more satisfying result would await Melandri in race two as he toughed it out with Biaggi, Laverty and Chaz Davies over an intense final five laps.
Shuffling positions continuously, Melandri left it until the final lap to make his move on Laverty, but it was a pass that would prove decisive enough for him to hold on to the chequered flag and secure a precious third victory of the year.
"It is just amazing. To win here is beautiful. I just want to say thanks to my guys, because we made another small step with the bike.
"In race two I put all my effort to get the win. It was not easy because the wind was very strong and the Aprilia guys were pushing hard. In the beginning, Max could not go as fast as in race one and for me it was similar. Eugene was very fast and suddenly with only a few laps to go, Max overtook me. I passed him back but went wide and so Chaz and Eugene went past me.
"They were riding so strongly and so fast that it was not easy. For the last lap I had no plan, because when racing against those guys you cannot think about a plan because they try to pass you at every corner so I just tried to find a good place for braking at the end of the straight. To win was so amazing. Now we will try some more things in the test tomorrow and keep working in this direction for the next races."
The result sees Melandri return to second in the overall standings, the Italian now 48 points behind his countryman Biaggi, while the result has helped BMW close the gap on Aprilia and Ducati in the manufacturers' standings.
Results from Aragon, Spain (the 8th round of 14):
RACE ONE:
1. Max Biaggi ITA Aprilia Racing RSV-4 39m 51.188s
2. Marco Melandri ITA BMW Motorrad S1000RR +0.278s
3. Carlos Checa ESP Althea Ducati 1098R +9.462s
4. Chaz Davies GBR ParkinGO MTC Aprilia RSV-4 +10.827s
5. Eugene Laverty IRL Aprilia Racing RSV-4 +15.708s
6. Michel Fabrizio ITA BMW Italia Goldbet S1000RR +27.597s
7. Leon Haslam GBR BMW Motorrad S1000RR +29.032s
8. Davide Giugliano ITA Althea Ducati 1098R +39.374s
9. Leon Camier GBR Crescent Fixi Suzuki GSX-R1000 +40.887s
10. Maxime Berger FRA Effenbert Liberty Ducati 1098R +41.440s
11. Niccolo Canepa ITA Red Devils Ducati 1098R +42.056s
12. Sylvain Guintoli FRA Effenbert Liberty Ducati 1098R +42.369s
13. Lorenzo Zanetti ITA PATA Ducati 1098R +42.669s
14. Hiroshi Aoyama JPN Honda WSBK CBR1000RR +48.010s
15. John Hopkins USA Crescent Fixi Suzuki GSX-R1000 +49.752s
16. Jonathan Rea GBR Honda WSBK CBR1000RR +54.590s
17. Norino Brignola ITA Grillini Progea BMW S1000RR +1m 59.653s
Not Classified
18. Ayrton Badovini ITA BMW Italia Goldbet S1000RR 19 laps completed
19. Tom Sykes GBR Kawasaki Racing ZX-10R 19 laps completed
20. David Salom ESP Pedercini Kawasaki ZX-10R 12 laps completed
21. Leandro Mercado ARG Pedercini Kawasaki ZX-10R 10 laps completed
22. Loris Baz FRA Kawasaki Racing ZX-10R 8 laps completed
23. Jakub Smrz CZE Liberty Effenbert Ducati 1098R 0 laps completed
Fastest lap
Marco Melandri ITA BMW Motorrad S1000RR 1m 58.251s
RACE TWO:
1. Marco Melandri ITA BMW Motorrad S1000RR 39m 59.200s
2. Eugene Laverty IRL Aprilia Racing RSV-4 +0.042s
3. Chaz Davies GBR ParkinGO MTC Aprilia RSV-4 +0.446s
4. Max Biaggi ITA Aprilia Racing RSV-4 +0.484s
5. Jonathan Rea GBR Honda WSBK CBR1000RR +6.611s
6. Leon Haslam GBR BMW Motorrad S1000RR +7.491s
7. Carlos Checa ESP Althea Ducati 1098R +9.325s
8. Tom Sykes GBR Kawasaki Racing ZX-10R +10.444s
9. Ayrton Badovini ITA BMW Italia Goldbet S1000RR +10.828s
10. Davide Giugliano ITA Althea Ducati 1098R +10.925s
11. Michel Fabrizio ITA BMW Italia Goldbet S1000RR +21.955s
12. Maxime Berger FRA Effenbert Liberty Ducati 1098R +22.046s
13. Sylvain Guintoli FRA Effenbert Liberty Ducati 1098R +22.486s
14. Lorenzo Zanetti ITA PATA Ducati 1098R +42.801s
15. Hiroshi Aoyama JPN Honda WSBK CBR1000RR +49.144s
16. David Salom ESP Pedercini Kawasaki ZX-10R +50.961s
17. Niccolo Canepa ITA Red Devils Ducati 1098R +1m 00.863s
18. Leandro Mercado ARG Pedercini Kawasaki ZX-10R +1m 14.149s
19. Norino Brignola ITA Grillini Progea BMW S1000RR +1m 53.388s
20. Loris Baz FRA Kawasaki Racing ZX-10R +1 lap
Not Classified
21. Leon Camier GBR Crescent Fixi Suzuki GSX-R1000 17 laps completed
22. John Hopkins USA Crescent Fixi Suzuki GSX-R1000 3 laps completed
DNS Jakub Smrz CZE Liberty Effenbert Ducati 1098R
Fastest lap
Marco Melandri ITA BMW Motorrad S1000RR 1m 58.950s
World Championships standings (after 8 rounds of 14):
1       Max Biaggi Aprilia Racing 249
2       Marco Melandri    BMW Motorrad 201
3       Jonathan Rea      Honda WSBK 183
4       Carlos Checa       Althea Ducati 176
5       Tom Sykes Kawasaki Racing 173
6       Leon Haslam       BMW Motorrad 142
7       Eugene Laverty   Aprilia Racing 126
8       Sylvain Guintoli   Effenbert Liberty Ducati 110
9       Davide Giugliano Althea Ducati 94
10     Chaz Davies        ParkinGO MTC Aprilia 78
11     Jakub Smrz         Liberty Effenbert Ducati 76
12     Michel Fabrizio     BMW Italia GoldBet 73
13     Ayrton Badovini   BMW Italia GoldBet 57
14     Leon Camier        FIXI Crescent Suzuki 57
15     Maxime Berger    Effenbert Liberty Ducati 49
16     Hiroshi Aoyama   Honda WSBK 38
17     Niccolò Canepa    Red Devils Roma Ducati 33
18     Lorenzo Zanetti   PATA Ducati 30
19     Loris Baz    Kawasaki Racing 19
20     Joan Lascorz       Kawasaki Racing 17
21     John Hopkins       FIXI Crescent Suzuki 11
22     Leandro Mercado Pedercini Kawasaki 9
=      David Salom        Pedercini Kawasaki 9
24     Peter Hickman     FIXI Crescent Suzuki 7
=      Matteo Baiocco    Barni Ducati 7
26     Bryan Staring      Pedercini Kawasaki 6
27     Mark Aitchison     Grillini Progea BMW 3
28     Joshua Brookes   Crescent Fixi Suzuki 1