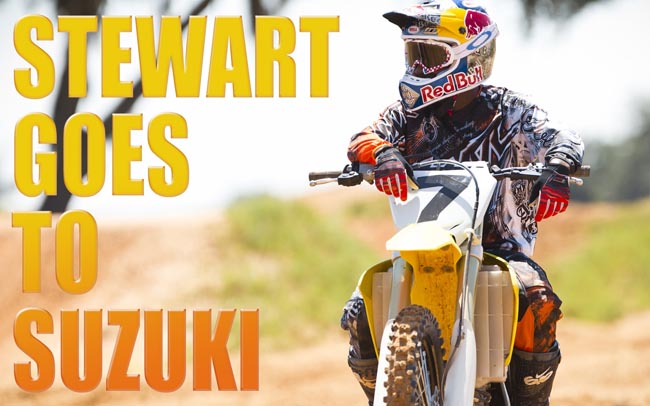 It's official, James 'Bubba" Stewart is going yellow.
Just days after being released from his Yamaha contract with the JGR Team in the United States, the multi-time US supercross and motocross champion has signed to race for Yoshimura Suzuki Racing on a multi-year contract.
Stewart will compete in both AMA Pro Motocross and Supercross aboard the Yoshimura Suzuki RM-Z450 beginning with the first round of the 2012 AMA Pro Motocross Championship in Sacramento, California on May 19.
Stewart, often called the "fastest man on the planet," comes to Yoshimura Suzuki with a long list of accomplishments: The 26-year-old native Floridian has amassed six AMA Championships including two AMA Supercross titles and a perfect-season AMA Pro Motocross Championship. He also has an FIM World Supercross Championship as well as two Motocross of Nations titles to his credit.
"I'm really looking forward to joining the team," said Stewart. "It's been a pleasure to get to test with these guys and meet the team. I'm very excited, I love the bike and ever since I rode it from day one I knew it was a great opportunity for me to come out and showcase my talent.
"With Mike Webb as the Team Manager and Don Sakakura the President of Yoshimura Racing, it's been great what they've been doing. The whole team is phenomenal. We're all excited to get the ball rolling and see what we can do over the next few years. I just want to thank everyone at Yoshimura and American Suzuki for giving me this opportunity."
"James is a great addition to our team," said Sakakura. "He is an amazing rider and gifted athlete and we feel very fortunate to have him join Yoshimura Suzuki. We will do everything possible to help ensure his and the team's success. Our company has been built on racing and winning Championships and we intend to keep that tradition alive with James and his incredible skill on a motorcycle."
Team manager Webb, as well as long-time Team Suzuki mechanic Lee McCollum and the rest of the Yoshimura Suzuki squad, will support Stewart in his run for the 2012 AMA Motocross Championship and beyond.
Said Webb: "We're extremely pleased with the announcement of James joining the Yoshimura Suzuki team. We all look forward to working with James and a rider of his calibre. We feel very confident we can provide him with the equipment that he needs to ride to his capability. We're working hard right now – though we don't have a lot of time – but we're very focused on getting ready for Hangtown and we're definitely looking forward to the opener."
Stewart will join Yoshimura Suzuki Racing team-mate Brett Metcalfe at the first round of the 2102 AMA Pro Motocross Championship at Hangtown in Sacramento, California on Saturday May 19.
Photos courtesy Suzuki