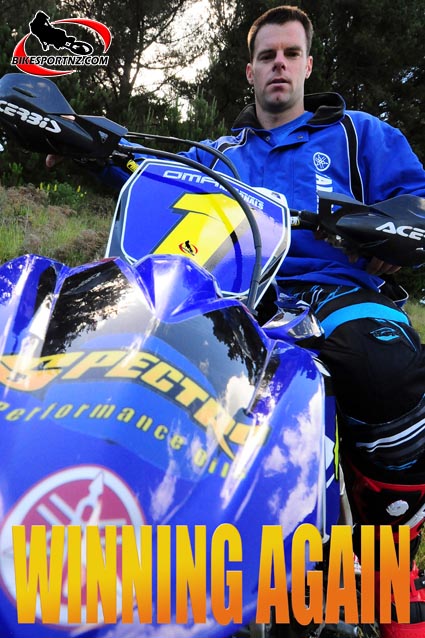 The true sign of a champion is when a racer shows the ability to surmount massive obstacles to complete his mission, and that's exactly what New Zealand Paul Whibley had to do in the United States at the weekend.
Racing at round three of the popular American Off-road Motorcycle and ATV (OMA) series in Arkansas, the Yamaha ace from Pahiatua was certainly put to the test.
The 33-year-old Whibley is a four-time consecutive winner of the OMA series and the defending champion again this season, making him one of the favourites to win again in 2012 and make it five championships in a row, but he was forced to battle back after a crash early in the race had left him with bent handlebars on his Yamaha YZ450F.
"I got off to a good start, although so did Russell Bobbitt who lined up beside me and held the inside line into turn one. I got pushed wide and clipped Nick Fahringer as he swept around the outside.
"With my front end taken out, I crashed. I remounted in last position, but with twisted bars and a lot of work to do to catch Russell, who was fast creating a sizable lead.
"I managed to push my way up to third by the end of the first lap and could see Nick in second.
"Nearing the end of the second lap I swept past Nick as we entered a fast grass field. Russell had built a lead of more than 30 seconds and was riding well."
But the tough-as-nails Kiwi kept pushing and he gradually closed the gap on Bobbitt.
"At the fuel stop, I caught sight of him as he left the pits. In the next lap Russell had some problems and I caught right up to him and made a pass. He recovered from his issues quickly and we started swapping positions as we battled for the lead.
"Going into the last lap, I held the lead, although I hadn't managed to put any time on Russell. The track was cutting up and some deep ruts were forming in some mud holes. Russell picked a bad line and wedged his KTM in one of these deep ruts coming up out of a small creek crossing. I hadn't realised he had dropped so far back until I had crossed the line for the win.
"Assessing the damage to my bike from the first-turn crash revealed a pretty twisted radiator although the Unabiker radiator braces held it all together so I could finish the race."
LEADING RESULTS:
1. Paul Whibley
2. Russell Bobbitt
3. Nick Fahringer
4. Cole Kirkpatrick
5. Zack Ingram
© Words and photo by Andy McGechan, www.BikesportNZ.com