TITLE DECIDED IN CLIFFHANGER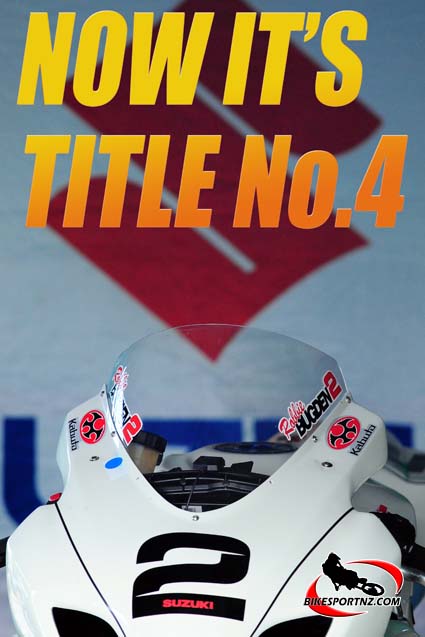 The New Zealand Superbike Championships went down to the wire at the fifth and final round just outside Taupo on Sunday.
The day began with Australian three-time champion Robbie Bugden leading Kiwi nine-time champion Andrew Stroud by just 10.5 points in the chase for the glamour superbike class honours.
The two Suzuki men had each suffered set-backs in their respective campaigns this season, both riders dropping points in a short 10-race championship that really allows no room for error.
Fortunately for both Brisbane native Bugden (Triple R Suzuki GSX-R1000) and Hamilton's Andrew Stroud (David Reid Homes Waikato Mobil 1 Suzuki GSX-R1000), the other title contenders had also experienced ups and downs.
As the sun rose in Taupo on Sunday morning, the title could actually have gone to any of half a dozen riders, including Wellington's Sloan Frost (M1 Motorsports BMW 1000RR), Hamilton's Nick Cole (Red Devil Racing Kawasaki ZX-10) and Christchurch's James Smith (Triple R Suzuki GSX-R1000).
Just 50 points separated these five men at the start of the day's action at Taupo and there were exactly 50 points up for grabs.
But, when the engines were finally shut off late Sunday afternoon it was Bugden on the top step of the podium, extending his personal record to four New Zealand superbike crowns.
Bugden was New Zealand superbike class champion three times consecutively between 2007 and 2009, but, while his back-to-back race wins at Taupo on Sunday earned him his fourth title with an eventual winning margin of 37.5 points over Stroud, he was quick to comment that "this was the toughest championship yet".
"This has been the longest five rounds of my life," said the 31-year-old Bugden.
"I had huge problems last week (at round four at Hampton Downs, near Huntly), dropping a lot of points when the bike threw a chain. My championship lead all but evaporated.
"I'd had a big crash at Invercargill too (round three of the series) and didn't think I'd be able to continue. But the team has been great. Every time we got knocked down, we'd get up and fight again.
"I would like to be back next year to defend the title. That's the plan anyway.
Bugden's team manager, Christchurch's Red Fenton, was impressed with Bugden's tenacity.
"He suffered two non-finishes in 10 races but still won the title. It just shows how good he was riding this year."
And for the man who lost his crown, Stroud was full of praise for his rival.
"Congratulations to Robbie. He's been very fast all season and deserved the win.
"I suppose I'll be back next year for another crack at the superbike title. I'd like to make it a nice round 10 crowns before I retire," said the 44-year-old father-of-eight.
The Suzuki 1-2 in the superbike class – BMW rider Frost finished third overall – was not the only reason for celebration for Suzuki with Christchurch's Dennis Charlett taking his Suzuki GSX-R600 to convincingly defend his national 600cc supersport class title.
Charlett rode sensibly, satisfied to finish third in the day's opening 600cc supersport race, to wrap up the title with a race to spare. The job done, he then romped to victory in the final race, adding icing to the cake.
"I rode sensibly and kept a close eye on my pit board during that first race. I knew I just needed to ride at a steady pace to get the job done."
Charlett eventually won the class by 38 points from fellow Suzuki rider Glen Skachill, of Wellington, with young Australian Josh McGrath (Yamaha) taking the third step on the championship podium.
"Next year I'm looking at defending my title for a second time and also racing in the superbike class."
Rangiora's Jake Lewis (Yamaha R6) won the superstock section of the 600cc action, finishing 38 points ahead of Timaru's Johnny Small (Suzuki GSX-R600).
Palmerston North's Glen Williams (Redpath Greenhouses Suzuki SV650) wrapped up the Superlite championship the previous weekend at Hampton Downs
Williams finished 2-1 in the class on Sunday, ending the championship a massive 94.5 points ahead of Blenheim's Neil Smith (Yamaha YZFR450).
Meanwhile, Christchurch's Robbie Stokes (Suzuki SV650) won the Pro Twin 650 class, finishing 9 points clear of fellow Suzuki rider Brian Hill of Ashburton.
Christchurch's Seth Devereux (Kawasaki KRZ125) won the 125GP class and Paraparaumu's Sam Croft (Kawasaki 250) won the ProLite 250 class.
Castrol Power1 New Zealand Superbike Championships, final round, Taupo:
Superbikes – Race one: Robbie Bugden (Australia) Suzuki 1; Craig Shirriffs (Feilding) Suzuki 2; Sloan Frost (Wellington) BMW 3; Nick Cole (Hamilton) Kawasaki) 4; Dan Stauffer (Australia) Yamaha 5; Andrew Stroud (Hamilton) Suzuki 6.
Race two: Bugden 1; Shirriffs 2; Cole 3; Stroud 4; Frost 5; Stauffer 6.
Final championship points: Bugden 182.5, Stroud 145, Frost 124.5, Cole 120.5, Shirriffs 114, James Smith (Christchurch, Suzuki) 100.
600cc Supersport – Race one: Josh McGrath (Australia) Yamaha 1; Glen Skachill (Wellington) Suzuki 2; Dennis Charlett (Christchurch) Suzuki 3; Jaden Hassan (Auckland) Yamaha 4; Jeremy Holmes (Invercargill) Honda 5. Race two: Charlett 1; Hassan 2; McGrath 3; Skachill 4; Karl Morgan (Auckland) Suzuki 5. Points: Charlett 203, Skachill 165, McGrath 123, John Ross (Christchurch, Suzuki) 116, Hassan 99.
600cc Superstock – Race one: Johnny Small (Timaru) Suzuki 1; Daniel Ornsby (Christchurch) Yamaha 2; Jake Lewis (Christchurch) Yamaha 3. Race two: Lewis 1; Daniel Kempthorne (Palmerston North) Yamaha 2; Small 3. Points: Lewis 217, Small 179, Ornsby 166.
Superlite – Race one: Glen Williams (Palmerston North) Suzuki SVR650, 1; Neil Smith (Blenheim) Yamaha YZF-R450, 2; Marty Wood (Blenheim) Yamaha YZF-R450, 3. Race two: Scott Moir (Taupo) Honda 450, 1; Williams 2; Smith 3. Race three: Williams 1; Smith 2; Wood 3.
650 Pro Twins – Race one: Nick Southerwood (Auckland)) Suzuki 1; Robbie Stokes (Christchurch) Suzuki 2; Zane Brookes (Palmerston North) Suzuki 3. Race two: Bryan Hill (Ashburton) Suzuki 1; Stokes 2; Southerwood 3. Race three: Stokes 1; Hill 2; Southerwood 3.
125cc GP – Race one: Seth Devereux (Christchurch) Honda 1; Daniel Mettam (Auckland) Honda 2; Troy Guenther (Australia) Yamaha 3. Race two: Devereux 1; Mettam 2; James Jarman (Whangarei) Honda 3. Race three part one: Mettam 1; Devereux 2; Guenther 3. Rac three part two: Devereux 1; Kyle Hammond (Wellington) Honda 2; Guenther 3. Points: Devereux 245.5, Mettam 243.5, Hafiq Azmi (Malaysia, Honda) 215.
Prolite 250 – Race one: Seth Devereux (Christchurch) Kawasaki 1; Daniel Mettam (Auckland) Hyosung 2; Aaron Hassan (Auckland) Kawasaki 3. Race two: Devereux 1; Sam Croft (Raumati South) Kawasaki 2; Hassan 3. Race three: Devereux 1; Hassan 2; Mettam 3.
© Words and photo by Andy McGechan, www.BikesportNZ.com
Full story and more photos in your next issue of KIWI RIDER magazine.