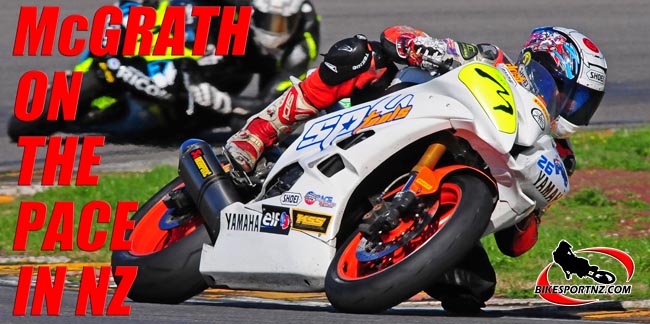 Brisbane's Josh McGrath may be regarded as too young to race a 600cc bike in Australia, but he certainly proved he was up to the task in New Zealand this summer.
With an age restriction on 600cc motorcycle racing in place across the Tasman, the 15-year-old McGrath jumped at the opportunity to gain experience and enhance his career prospects with a campaign racing a Yamaha R6 in the 600 supersport class in New Zealand this season.
Although constant feature throughout the five-round series, McGrath really stepped up the pace to stun the sport's established stars with a blistering performance at the final round near Taupo on Sunday.
He started the day at Taupo in fifth position overall in the standings, but, after winning the day's opening 600cc race and following that with a solid third in the next outing, he found he had finished the day first equal and also leapt up the championship rankings to finish the series on the podium, third overall.
The 600cc supersport title was won by last year's champion, 43-year-old Christchurch rider Dennis Charlett (Suzuki), with Wellington 22-year-old Glen Skachill (Suzuki) taking the runner-up spot.
"The first-race win today was my best result ever," said McGrath.
"Dad was putting out my pit board and signalling plus one and plus two and then plus three, the margin growing each lap … I was actually further in front than that each lap but he was understating the margin just to keep me pushing hard. I didn't really need the motivation though."
He ended the damp first race more than 12 seconds ahead of second-placed Skachill.
"(New Zealand mechanic) Dave Cole builds good race bikes and the Pirelli tyres were awesome. The wet weather tyres didn't tear up at all as the track dried off during the race.
"I was just telling myself to stay focussed and concentrate and not crash.
"This was my first season on a 600 and I had a few problems earlier in the campaign, but I think we've worked it all out now," he smiled.
As well as sharing top spot on the podium at Taupo, McGrath finished on the podium at round three of the series in Invercargill two months earlier.
© Words and photo by Andy McGechan, www.BikesportNZ.com