Tauranga's Logan Blackburn will be hoping to turn tragedy into triumph when he lines up for round three of the New Zealand Motocross Championships near Pukekohe this weekend.
The 125cc class winner at the recent New Zealand Motocross GP at Woodville, Yamaha ace Blackburn had always been expected to be among the frontrunners when the New Zealand Motocross Championships kicked off just over a fortnight ago.
And so it proved, with Blackburn riding his Bayride Motorcycles Yamaha YZ125 to third spot on the points table at round one near Timaru, just behind fellow Yamaha man Cameron Vaughan, of Rotorua, and Amberley's Micah McGoldrick (KTM).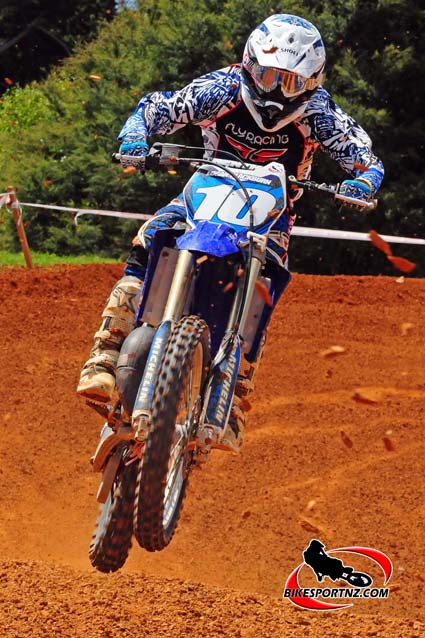 At round two at Patetonga, near Morrinsville, at the weekend, the 17-year-old Blackburn sent a clear message to his rivals by setting the fastest time in qualifying.
Unfortunately, first pick of positions on the start gate did not translate into wins for the rising star.
He struck bike problems while running in third position and was forced out of the day's first 125cc race.
Though forced to revert to his practice bike, Blackburn bounced back in the next two outings.
"I had to get used to the different bike and got a mid-pack start," Blackburn explained.
"I was in sixth early on but made my way up into fourth, passing Cameron Negus (Husqvarna, of Rotorua), Eli Manson (Yamaha) and Callum May (Yamaha) (both from Auckland) in just two laps, finishing the race fourth, right behind Yamaha rider Garth Amrein (of Katikati).
"In the third and final race of the day, I got another mid-pack start, but caught up to third in the first lap rode a strong race, focusing on my technique, finishing third.
"I had a bit of bad luck but, hey, it happens in motocross," Blackburn shrugged.
Despite his dramas, Blackburn remains third overall in the dual-title 125cc and under-21 class.
He heads to the Pukekohe Motorcycle Club's circuit at Harrisville for this weekend's third round of the series in determined mood.
The fourth and final round of the series is set for Taupo on March 18.
© Words and photo by Andy McGechan, www.BikesportNZ.com