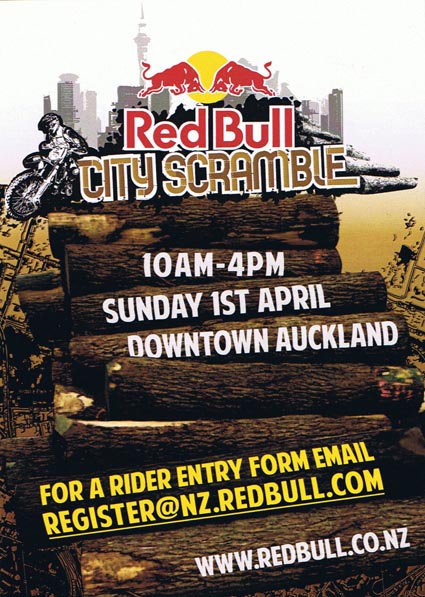 The Red Bull City Scramble is set to run once again, this time on April 1.
Back in June 2009, the inaugural Red Bull City Scramble was staged in downtown Auckland and it was a roaring success.
It was trees and rocks, gravel and boulders versus glass, tar seal, aluminium, concrete and steel.
It was motocross versus trials, enduro versus cross-country.
It was international riders versus New Zealand's elite.
The contrasts could not have been more extreme.
Wellington's Rory Mead won the day on that occasion, the victory propelling him into the international spotlight and starting his rapid rise up the ladder of success.
With two national enduro championship wins (he was top dog in the enduro world here in 2009 and last season as well) now under his belt, not to mention other major race wins, he is truly among the Kiwi elite.
The original Red Bull City Scramble was the dream-child of another Kiwi international, Aucklander Chris Birch, and it allowed him to bring his chosen sport – one that is more typically staged in the deep, dark bush of the countryside – to the masses in the nation's most heavily-populated and most cosmopolitan of cities.
Birch settled for runner-up spot at that inaugural event, with German visitor Andreas Lettinbelcher finishing third.
© Words and photos by Andy McGechan, www.BikesportNZ.com