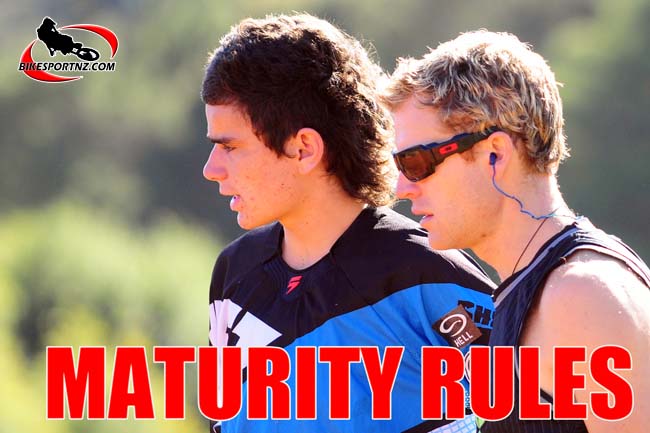 Sensible riding ensured Amberley's Micah McGoldrick has retained his lead in the hunt for New Zealand 125cc and under-21 class motocross honours.
And he'll be looking to display the same sort of maturity when he races at round three near Pukekohe this Sunday.
The 16-year-old CMR Red Bull KTM rider (pictured above, left) had dominated round one of the New Zealand Motocross Championships near Timaru a fortnight ago and he knew he'd come under fire as round two kicked off at Patetonga, near Morrinsville, last Sunday.
And attack is exactly what his happened when Woodville GP 125cc class winner Logan Blackburn (Yamaha) snatched pole position in qualifying and McGoldrick's main title rival, Rotorua's Cameron Vaughan (Yamaha), fired up on Sunday.
Vaughan had an element of luck on his side because he was close enough to benefit when McGoldrick bobbled and shot off the track while leading the day's first 125cc race, gifting the win to a grateful Vaughan.
But McGoldrick struck back instantly, winning the next race comfortably.
That meant the two riders were tied on point for the day's overall honours and it would come down to the third and final race to decide which way it went.
"I didn't get a great start and was behind Vaughan at the start of race three," said McGoldrick.
"I was up to second spot and went to make a move on passing Vaughan when I stuffed it up in a deep rut and nearly went down.
"I was tired from charging at him and he was riding really well, so I decided to be sensible and just accept the points for second place.
"It was still a good, positive day for me. I didn't win the overall (Vaughan's 1-2-1 results enough to edge out McGoldrick's 2-1-2) but I still have the championship lead as we head to round three at Pukekohe this coming weekend and that's what really matters.
"There is still a lot of racing yet to come." He said.
Katikati's Garth Amrein (Yamaha) finished the day third overall, notching up a 3-3-8 score-line for the day.
© Words and photo by Andy McGechan, www.BikesportNZ.com