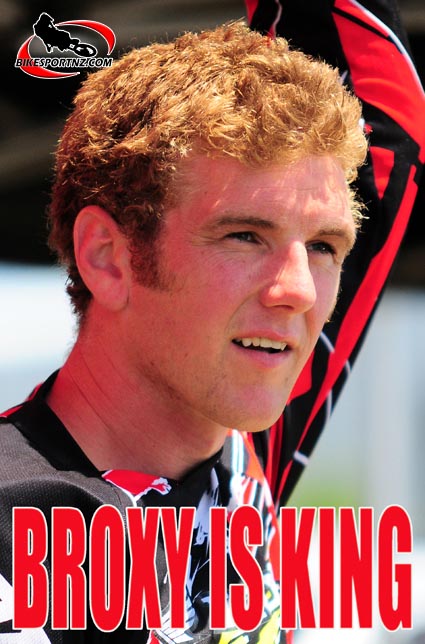 Bay of Plenty's Peter Broxholme is Taranaki's new King of the Mountain.
The Tauranga racer was a virtual machine at the big annual King of the Mountain Motocross just outside New Plymouth on Sunday, winning the MX2 (250cc) class and taking his 250cc bike to finish runner-up in the MX1 (open class) class as well, before capping his day off by also riding his CRF250 to victory in the special one-off Stephen Adamson Memorial feature race.
Broxholme took his Bel Ray Botany Honda to a hat-trick of wins in the MX2 class on Sunday, overshadowing his own Honda team-mate, Taupo's Cam Dillon, in the process. Dillon finished 2-2-3 in his three outings, while Wanganui's Tom Managh (Suzuki) took the third step on the podium with his 3-3-2 results.
Broxholme then scored 2-2-1 in the MX1 class, just overshadowed by national MX1 champion Cody Cooper (Moto City Suzuki), of Mount Maunganui, who notched up 1-1-2 results. Stratford's Brendon Mander (Honda) was third overall in the MX1 class.
"This is definitely one of those special moments in my racing career," said Broxholme afterwards.
"The track was looking a bit dodgy but the rain stopped and there was perfect traction. I qualified fastest and got the best gate pick in the MX2 class and was faster than Cody in qualifying too.
"I certainly wasn't mucking around," he laughed.
"Before the start of the feature race I felt as if I had two kilos of cotton wool in my head. I was shattered after doing six races (three races in each of the MX1 and MX2 classes). But Cooper got a flat tyre and that made things easy for me.
"It was very special for me to win the Stephen Adamson Memorial Race. I knew Stephen (the former Inglewood racer who died earlier this year after a long illness) and remember him riding and when he had his bike accident. He was a good friend and to win this trophy is very important to me."
Even with the horsepower disadvantage against the might of Cooper's 450cc bike, Broxholme proved himself a force to be reckoned with and, with the national championship series just around the corner, he will obviously be one of the leading contenders for a title this season, particularly in his chosen MX2 class.
New Plymouth's Hamish Stenning (Yamaha) won the National 125cc class, ahead of Waikanae's Kieran Bryant (Yamaha) and Auckland's Kurtis Lilly (KTM), while Otorohanga's Hayden Kanters (Kawasaki) won the junior King of the Mountain feature race.
© Words and photo by Andy McGechan, www.BikesportNZ.com