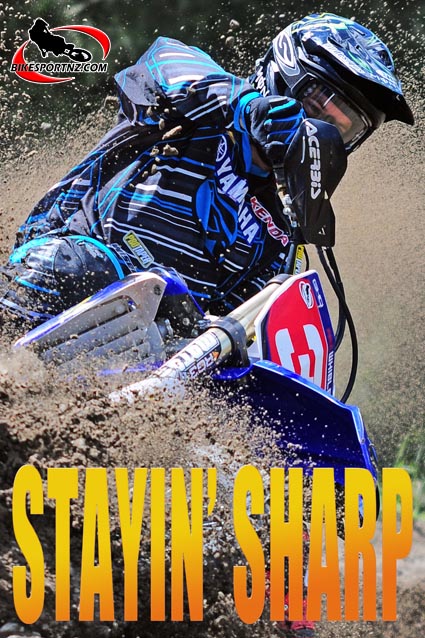 With temperatures soaring in the American mid-east, the Grand National Cross-country Championships was all set for its traditional mid-summer break.
However, keen to keep up the momentum after winning the latest round of the GNCC series in the United States, New Zealand's Paul Whibley was determined not to ease off — he was keen for more competition.
Instead of taking a well-earned break, the Yamaha ace decided to tackle round nine of the North Carolina Hare Scramble Series at Taylorsville, North Carolina at the weekend and celebrated yet another victory on what has been a superb international campaign in 2011.
But, despite the win, Whibley didn't have it all go his way.
"I drew a bad pick of the start gate and had the choice of the very outside or on the very inside. I chose the inside and was banking on the YZ450 being able to fire up quickly, as usual.
"The plan worked out and I was able to rub shoulders with Jesse Robinson (KTM) as we rounded turn one and snatch the lead after we crossed the wooded bridge that lead to the woods.
"The track was slick on the first lap and the fresh trail was tough to follow but as the second lap began the race really got started.
"Jesse was still right on my tail and pushing hard. The trail was tacking up and ruts were beginning to form. We were soon into lapped riders and passing was a little tough as the main line was were all the traction was and, going off that line, was also risking clipping an unseen rock.
"Jesse continued to hound me and this was making it an exciting race.
"We continued to weave our way through the woods and opened up a gap over the rest of the chasing pack. I got a pit board from (my wife) Katherine to pit for gas the following lap so I stepped up the pace and was able to open up a small lead.
"I think Jesse may have gone down and had problems the following lap as once I got away my lead continued to grow lap after lap. With the white flag coming out and a safe lead, the final lap was completed safely."
The main motorcycle cross-country race action in the United States, the GNCC series, does not resume until September 11, at Unadilla, near New York, but Whibley will keep sharp as he continues to race at smaller events around the country.
He is currently third overall in the GNCC series.
© Words and photo by Andy McGechan, www.BikesportNZ.com