JARVIS WINS; BIRCH SECOND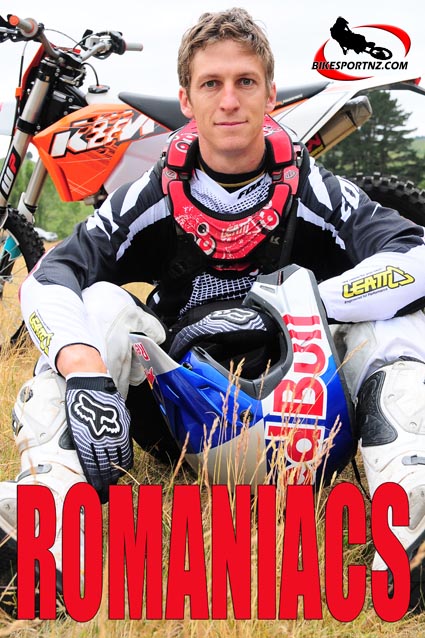 Britain's Graham Jarvis has won the 2011 edition of the Red Bull Romaniacs extreme enduro, with New Zealand's Chris Birch forced to accept runner-up spot.
It was Jarvis' second time winning the great race, this year's event wrapping up yesterday with a ride up historic stairs in the beautiful city of Sibiu, in Romania, and a bunch of very tired riders
Five days ago, 176 very motivated riders kicked off the 2011 Red Bull Romaniacs with the prologue, rode about 600km through the Romanian countryside, abused their bikes and their bodies as if their life depended on it and 124 arrived at the finish yesterday.
The best of them was Jarvis.
Like everyone else, he had to go to extremes to get past the difficult sections of the PRO-track, endure crashes and keep going, fix his bike and fight exhaustion. But again he rode "like a surgeon", had enough energy and claimed a well-earned victory. Jarvis won the Red Bull Romaniacs in 2008, had been pushing hard the last two years (participated in 2009, came in 2nd in 2010) and has now won again in 2011.
"It was another tough day and I had to keep pushing, because I knew that Chris would never give up," said Jarvis.
"And then I caught a wire in my rear wheel, which sent me crashing and I had to work quite a bit to get that out of my bike. But I am happy to have won the Red Bull Romaniacs for the 2nd time now! It is such a great race and I hope to back next year. The support from Husaberg and GoldenTyre was great and I appreciate this!"
Jarvis indeed had a very committed Birch on his heels throughout the race, who delivered an excellent performance as well but had to watch his competitor claim the victory.
Unlike many of his fellow riders, who don't want to be near a motorbike for a few days, Birch is already thinking about his next race in South Africa on Saturday.
"Today I had my hardest day so far, this was quite tough but definitely a fun ride," said Birch.
"Coming seccond to Graham is okay in my book – this guy is incredible! And I love this race, if anyone out there is thinking about doing it, I can only encourage you: I have done all sorts of races around the world and this is by far the best. Just make sure you pick the right class…!"
The rider in overall place third, Andreas Lettenbichler, entered the race charging like there was no tomorrow and was challenging Jarvis for parts of the day. His riding skills one more time stunned his world class opponents, who watched him clear some of the obstacles in true "Letti-magic". Most were unable to follow his lines. Unfortunately he hard-crashed twice and his GPS got destroyed.
But Letti would not give up and followed a group of Hobby riders for navigation which secured him a well earned third place for the day and in total! Letti: "I am happy it is over, it was a fun and tough race. I'm going back to work tomorrow, but I have a ton of great memories and an awesome place on the podium to be happy about!"
Another rider fighting a brave battle was Xavi Galindo. The PRO-class Spaniard was well on his way until he lost control of his bike just above a rock face and the bike went down vertically to a spot next to a lake, from where it was unrecoverable. After getting rid of his race gear, Galindo decided to swim to the other side of the lake for help. There, a rowing boat was quickly high-jacked and used as a ferry to get his bike back on track. Only one hour later, he was back in the race and finished 10th for the day. He was presented water wings at the award ceremony.
Two other Kiwis in the race also produced outstanding results with Tokoroa's Sean Clarke finishing ninth overall in the Pro class, while Taupo's Mark De Lautour came in 10th in the Experts Single Class.
Said the event organiser, Martin "Frejn" Freinademetz: "We never had such a high percentage of finishers, which can certainly be brought back to the great weather but also to our good preparations: We have marked and prepared ca. 600km of tracks, employed 400people, distributed 20.000 litres of gas and 390 litres of Motorex-oil to the 16 tank points, build 4 service points and established 40 checkpoints, provided food and accommodation for riders and team, arranged world-class rescue services and security – we are as tired and relieved as the riders and extremely happy that we had such a great racing event to celebrate the sport of Extreme-Enduro! A big thank you to my team and the participants for making this happen! This is a perfect position to start preparations for the Red Bull Romaniacs 2012, which will be part of the World Extreme Enduro Championship."
© Photos by Andy McGechan, www.BikesportNZ.com 
Pro class
| | | | | | | | | | |
| --- | --- | --- | --- | --- | --- | --- | --- | --- | --- |
| Rank | Name | Nat. | Bike | Prolog | Day 1 | Day 2 | Day 3 | Day 4 | Summary |
| 1 | Graham Jarvis | ENG | Husaberg 300 | 0 | 4:03:13 | 6:11:46 | 5:17:21 | 4:27:54 | 20:00:14 |
| 2 | Chris Birch | NZL | KTM300 | 2:00 | 4:32:07 | 6:08:48 | 5:26:08 | 4:35:12 | 20:44:15 |
| 3 | Andreas Lettenbichler | DEU | Husqvarna | 6:00 | 4:24:57 | 6:27:33 | 5:33:13 | 4:43:00 | 21:14:43 |
| 4 | Paul Bolton | GBR | KTM EXC | 1:00 | 4:55:00 | 6:39:55 | 6:03:45 | 5:00:59 | 22:40:39 |
| 5 | Xavi Galindo | ESP | Husaberg 300 | 4:00 | 4:27:19 | 6:44:44 | 5:30:10 | 6:06:02 | 22:52:15 |
| 6 | Melcior Faja | ESP | KTM 300 | 5:00 | 4:52:48 | 6:44:03 | 6:14:16 | 5:14:06 | 23:10:13 |
| 7 | Darryl Curtis | RSA | KTM 300 EXC | 7:15 | 4:50:06 | 7:14:41 | 6:27:27 | 5:16:06 | 23:55:35 |
| 8 | Gerhard Forster | DEU | Husqvarna TE 449 | 3:00 | 5:05:04 | 7:13:54 | 9:00:58 | 5:26:28 | 26:49:24 |
| 9 | Sean Clarke | NZL | KTM 300exc | 7:30 | 5:24:52 | 7:35:24 | 7:45:30 | 6:08:09 | 27:01:25 |
| 10 | Ervin-Zsolt Kovacs | ROU | GAS GAS | 6:45 | 4:53:33 | 7:21:24 | 8:30:00 | 6:14:16 | 27:05:58 |
| 11 | Emanuel Gyenes | ROU | KTM 300 EXC-E | 8:00 | 6:04:41 | 7:35:21 | 8:34:58 | 5:22:27 | 27:45:27 |
| 12 | Martin Volny | CZE | Beta 450 RR | 4:30 | 5:06:13 | 7:12:58 | 10:02:06 | 5:58:47 | 28:24:34 |
| 13 | William Clifton Gillit | RSA | Husaberg 300 | 10:00 | 6:34:48 | 9:53:54 | 8:51:53 | 10:08:43 | 35:39:18 |
| 14 | Lars Enoeckl | AUT | KTM | 7:00 | 6:06:55 | 7:13:03 | 7:30:12 | 15:46:32 | 36:43:42 |
| 15 | Jesus Zavala | MEX | Husaberg TE 300 | 10:00 | 7:41:18 | 18:17:33 | 10:44:46 | 11:46:14 | 48:39:51 |
| 16 | Mathias Weichselmann | DEU | Yamaha | 7:45 | 7:49:32 | 28:36:36 | 10:18:57 | 11:17:03 | 58:09:53 |
| | Paulo Miranda | POR | Yamahayz | 10:00 | 7:46:19 | 18:17:57 | DNS | DNS | 26:14:16 |
| | Ter Jung Jens | DEU | Husqvarna TE 449 | 5:30 | 13:17:29 | DNS | DNS | DNS | 13:22:59 |
| | Dominic Mantle | RSA | Husaberg 300 | 6:30 | 14:53:18 | DNF | DNS | DNS | 14:59:48 |
Experts Single