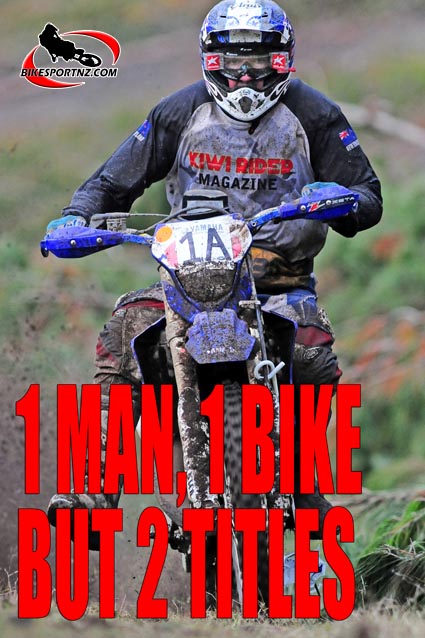 One race, one rider and one bike but it was two wins for Tokoroa man Sean Clarke.
The 43-year-old father-of-two finished a very creditable sixth overall at the annual Leatt Four-Hour race in the Tahorakuri Forest, near Taupo, on Saturday, good enough for him to win the ironman title, as first solo rider among the nearly 200 entries.
Clarke (Yamaha WR250F) also finished first among the veterans' (35-44 years).
A total of 32 riders did not finish the gruelling race and Clarke was one of only 12 entrants to complete eight laps in the four hours, finishing more than two minutes ahead of the next best solo rider, young Napier rider John O'Dea (who was 10th overall) and a lap ahead of the next best veterans' class contenders, Taupo co-riders John Kirkcaldie and Glen Clarke (no relation), who finished 22nd overall.
Clarke's outstanding effort meant there were three Yamahas in the top six, with the Yamaha teams of Callan May/Adrian Smith and Cameron Negus/Barry Morris finishing second and third respectively, behind outright winning duo Peter Broxholme/Karl Power.
Just to make it a family affair, Sean Clarke's son Jesse Clarke (Yamaha YZ125) finished fourth overall, in the 11-kilometre, 90-minute junior race run earlier in the day, that battle won by Rotorua Yamaha ace Cameron Vaughan.
"It was a pretty straight-forward race for me," Sean Clarke said afterwards.
"I did have a bad start though and was about 100th at the start. But I'd fought my way through to 15th by the end of the first lap.
"I decided to do two laps in a row without refuelling and, when other riders pitted for fuel at the end of lap one, that helped me shoot up to about eighth place.
"I have been in training quite a bit lately … no beer," he laughed. "This was part of my build-up to race the Red Bull Romaniacs extreme enduro in Romania from July 15-20. I've been doing a lot of mountainbike riding too."
Clarke has this week also been preparing the course for this Saturday's Dirt Guide Cross-country series final round at Whakamaru. Clarke is also a contender for a podium finish in that three-round series.
© Words and photo by Andy McGechan, www.BikesportNZ.com