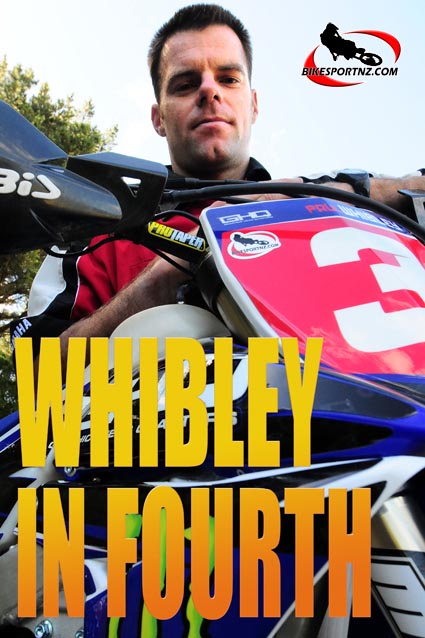 New Zealand's Paul Whibley remains on target to win the Grand National Cross-country (GNCC) Championships in the United States this season, despite experiencing mixed results over the first three rounds.
He struggled at the start of the round three event at Morgantown, North Carolina, at the weekend, slumping from third to fourth in the championship points standings, and now finds himself 21 points off the lead, held now by 2010 champion Josh Strang (Suzuki), of Australia.
After suffering a punctured radiator at round one in Florida at the start of March, limping home in 15th spot, and then winning the previous event, round two of the series in Washington just a week ago, the Yamaha star was well placed to push for the top spot.
But Whibley (Yamaha YZ450F) again struck problems at Morgantown, with forearm fatigue slowing his progress.
"The Steel Creek venue in Morgantown, North Carolina, is dominated by the hills and we are typically going up or down. Another element that is common at this track is the weather … it is always cold. This year temperatures didn't rise above 50 Fahrenheit  (10 Celsius) and, after the warm weather we had been spoilt with lately, this was hard to take.
"I picked a few guys off and moved inside the top 10 but quickly felt my arms pump up and I began to ride a little tight. I think it was temperature that played havoc with my forearms.
"My progress slowed until I loosened up after the halfway mark, when I was able to push again and make some more passes. Charging past Finnish rider Simo Kirssi (Husqvarna) and American Jimmy Jarrett (Honda), I closed in on the top five. I got stuck in a small mud hole allowing XC2 class leader Jason Thomas (Husqvarna) to get by.
"I got going again and over the last two laps got into a battle with Jason, eventually getting the position back. Jason had started a row behind me and therefore I needed to put a minute on him to finish ahead of him overall. On the last lap (my wife) Katherine was giving me pit boards with the lead I had built on Jason, 30 seconds and then 42 seconds. The last board I got was 45 seconds. I needed to stretch that out to another 15 seconds over the last couple of miles.
"By the time I got to the flag I had done enough to move up to fifth overall. This is not what I was hoping for but it is some points in the bag."
The fourth round of 13 in the series is set for South Carolina on April 10 and Whibley, who won the title in 2009 and finished third overall last season, will be targeting another solid result.
RESULTS:
1. Josh Strang (Suzuki)
2. Charlie Mullins (KTM)
3. Cory Buttrick (KTM)
4. Kailub Russell (KTM)
5. Paul Whibley (Yamaha)
6. Simo Kirissi (Husqvarna)
7. Jimmy Jarrett (Honda)
8. Russell Bobbitt (KTM)
9. Nathan Kanney (KTM)
10. Mike Lafferty (Husaberg)
LEADING SERIES STANDINGS AFTER 3 of 13 ROUNDS:
1. Strang 73
2. Mullins 70
3. Buttrick 53
4. Whibley 52
5. Kanney 43
6. Thomas 39
© Words and photo by Andy McGechan, www.BikesportNZ.com