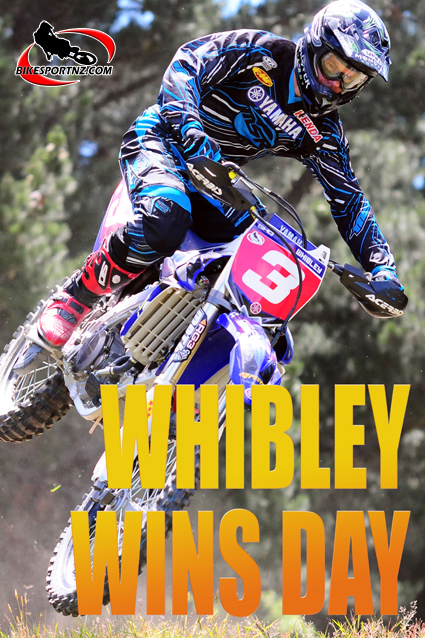 New Zealand's Paul Whibley is back in the hunt.
After a shocking opening round of the Grand National Cross-country Championships in the United States a week ago – with a damaged radiator on his Yamaha YZ450F wrecking his day — the former forestry worker from Pahiatua rocketed back into contention for the 2011 crown with a blistering performance at round two in Washington, Georgia, this week.
Ninth place last week was not the sort of result "The Axeman" was seeking to kick off his 2011 campaign, but a stunning win at round two has seen him zoom up the championship rankings to third place overall, now just three points behind leader Charlie Mullins and one point adrift of defending champion Josh Strang, of Australia.
"This certainly puts me in the hunt," said Whibley afterwards. "This is a good way to come back out and at least I know I'm on pace with these guys. I feel good, the bike is good and everything went well."
Strang (Suzuki) finished runner-up to Whibley at Washington, 20 seconds behind, with Yamaha ace Thad DuVall coming home third another nine seconds further back.
"We were passing back and forth for most of the race," said Whibley.
"Strang upped the pace late in the race and I had to pick it up too. I was able to get the lead at the two-second board and I just rode a steady race after that."
The third round is set for Steele Creek, Morganton, North Carolina, next weekend (March 26-27).
XC1 Results:
1. Paul Whibley (Yam)
2. Josh Strang (Suz)
3. Thad DuVall (Yam)
4. Cory Buttrick (KTM)
5. Nate Kanney (KTM)
6. Charlie Mullins (KTM)
7. Garret Edminsten (Kaw)
8. Jimmy Jarrett (Hon)
9. Russell Bobbitt (KTM)
10. Mike Lafferty (Hsb)
XC1 Standings:
1. Charlie Mullins (45/1 win)
2. Josh Strang (43)
3. Paul Whibley (42/1 win)
4. Cory Buttrick (33)
5. Nate Kanney (32)
6. Garrett Edminsten (28)
7. Chris Bach (27)
8. Mike Brown (25)
9. Mike Lafferty (24)
10. Thad DuVall (22)
XC2 Results:
1. Jesse Robinson (KTM)
2. Steward Baylor Jr. (KTM)
3. Jason Thomas (Hsq)
4. Brad Bakken (KTM)
5. Jordan Ashburn (Yam)
6. Andrew DeLong (KTM)
7. Ted Mullins (Yam)
8. Scotty Watkins (Hon)
9. Shane Obanion (KTM)
10. Zackery Smith (KTM)
XC2 Standings:
1. Steward Baylor Jr. (55/1 win)
2. Jesse Robonson (51/1 win)
3. Jason Thomas (46)
4. Brad Bakken (33)
5. Andrew DeLong (33)
6. Jordan Ashburn (27)
7. Shane Obanion (26)
8. Morgan Moss (24)
9. Shane Hufford Jr. (23)
10. Scotty Watkins (22)
© Words and photo by Andy McGechan, www.BikesportNZ.com