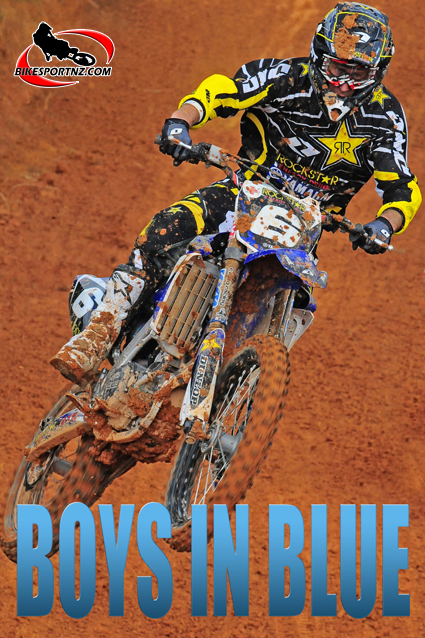 The boys in blue have every reason to celebrate but they're taking nothing for granted as the New Zealand Motocross Championships are set to pass the halfway stage this weekend.
It is the third round of four in the series near Rotorua on Sunday and MXDK Rockstar Yamaha riders lead the way in all four divisions.
Motueka's Josh Coppins wrapped up a 15-year-old world motocross championship career at the end of last year and now he's based back in New Zealand where he rides for the MXDK Rockstar Yamaha Team at home and for the CDR Rockstar Yamaha team in the Australian domestic championships across the Tasman.

His New Zealand campaign is progressing smoothly.
He has already collected four New Zealand titles this summer, clinching the Woodville Motocross, North Island, South Island and New Zealand Supercross Championship titles just a few weeks ago and he also enjoys a six-point lead over Mount Maunganui's Cody Cooper (Power Balance MotoGB Suzuki) in the MX1 class after the opening two rounds of the Demon Energy-sponsored motocross nationals.
Third overall is Rotorua's Michael Phillips (Honda Hamilton), just eight points further back, and he will be a serious threat on his home turf on Sunday.
Coppins' Australian campaign kicked off in a rain-drenched Victoria last weekend and, despite qualifying fastest, problems finding traction in the mud there meant he finished the day an unaccustomed seventh overall.
He'll be back across the Tasman to rectify that at round two next month but, in the meantime, he's keen to push on and wrap up the New Zealand phase of his 2011 campaign with racing near Rotorua on Sunday and then the final round in Taranaki a week later.
"I have an elbow injury at the moment and I'm getting physio treatment for that," said Coppins. "It also means I have not been able to train this week, but I figure I've done enough preparation already so that it shouldn't matter too much.
"I just need to win some more races. Hopefully I can do that and extend my MX1 championship lead here in New Zealand to nine or 10 points before we head to Taranaki.
"Cooper is on fire at the moment and, when he's hot, he's very hard to beat. I never expected winning in New Zealand would be easy.
"I want to finish my New Zealand campaign on a high and then see if I can move up the rankings in Australia too."
Two of Coppins' MXDK Rockstar Yamaha team-mates in New Zealand also lead their respective classes – team boss Darryll King (Yamaha YZ250), of Hamilton, leads the MX2 (250cc) class and Waitakere's Ethan Martens (Yamaha YZ125) leads both the separate 125cc and under-21 categories.
They, too, will be looking to cement their respective positions on top when racing resumes at Rotorua on Sunday.
© Words and photo by Andy McGechan, www.BikesportNZ.com