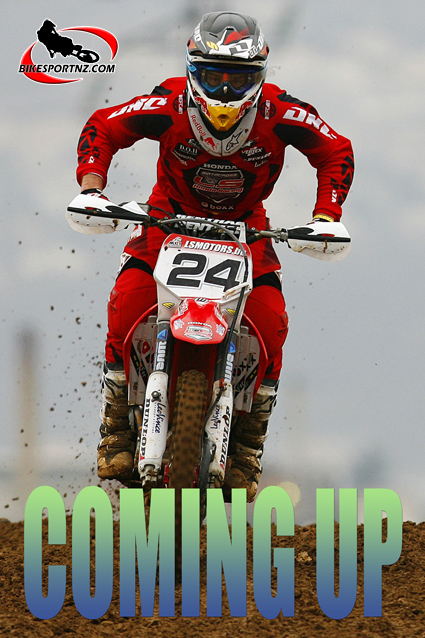 With the opening round of the 2011 Motocross World Championship just a few weeks away, all riders make the best of their last opportunities to test their fitness and machinery in various international pre-season races.
This weekend the Belgian LS Honda Racing team will be represented at two different meetings.
Ken De Dycker heads to Halle, in the northern part of the Netherlands (Gelderland) where he will compete in the second round of the Dutch Motocross Championship after having dominated the opening round in Gemert last weekend.
While Halle provides an interesting sand track in its own right, the Hawkstone Park Motocross where Shaun Simpson will race is a different kettle of fish altogether. Centrally located in the UK, about 90 kilometers North West of Brimingham, Hawkstone Park remains one of the most iconic motocross tracks in the world.
The circuit has gained recognition for a string of 500 and 250cc motocross GPs from the fifties till the nineties. However the iconic Hawkstone Hill first caught the imagination with hill-climbs and scrambling. No wonder this place is nicknamed the home of British motocross! We sat down with Shaun to talk about this truly special race.
Can you remember the first time you went to Hawkstone Park?
Shaun Simpson: "That's really tough actually! I have the feeling I went there almost forever, obviously a lot longer than I have been riding myself. As a kid I remember my dad racing there, when I was about six or seven but there's been so many occasions as well. I'm sure I was there a lot of time before that even. As a rider it took me quite long time before I had a go. It was only in 2004, but I immediately liked it."
For those who haven't been there or didn't have the joy to compete at Hawkstone Park. What is that you like about it?
Shaun Simpson: "First of all I like the look of the track, that you can't compare to anything else. No matter if you have done it before it's always a really cool feeling to storm up that hill. The deep sand becomes rougher and rougher as the day goes on. My favourite part of the track is this famous whoop section at the back out in the woods. You need some guts there to attack wide open. But the sandhole, this massive sandpit where the crowd gathers is also epic. There's always a great atmosphere at Hawkstone Park anyway and you can tell people look forward to this race. For me it was always a race where a lot of Scottish guys and family went to as well, it's only five hours from where I live so that's relatively close. What else… I wrapped up the British MX2 title there in 2008 (smiles) So, yeah what's not to like about it?"
Apart from the sections you just mentioned what are the good vantage points for the fans?
Shaun Simpson: "Well, when you are there you should just go up the hill at least once. That's a must! More than anything just to appreciate what it is all about. But the Hawkstone Park start is also quite a sight, you see 40 guys heading for the woods. You cannot compare it to an open modern track, because although there are plenty of good spots to watch from Hawkstone Park is also about the anticipation. You hear the riders and you see them speeding between the trees, it's certainly old school but it's so awesome!"
In spite of your strong qualification you had a sad birthday last week, tweaking your knee in Gemert. Will you be okay for HIMX?
Shaun Simpson: "Initially I had quite a lot of pain and on top of that I heard this cracking noise so I feared something happened to my ligaments. Both the doctor at the track and my surgeon later on confirmed that everything is fine. Yes it's swollen and the scan shows that there's some bone bruise, but I'm taking it easy and I should be ready to go in Hawkstone Park. I have to say I was immensely relieved after the good news came that nothing was damaged. It's only at times like these that you fully appreciate what it means to be healthy and fit! My programme for the new season is working out great and I'm keen to show what I can do in the MX1 GPs."
© Words by Tom Jacobs, photo by CDS.