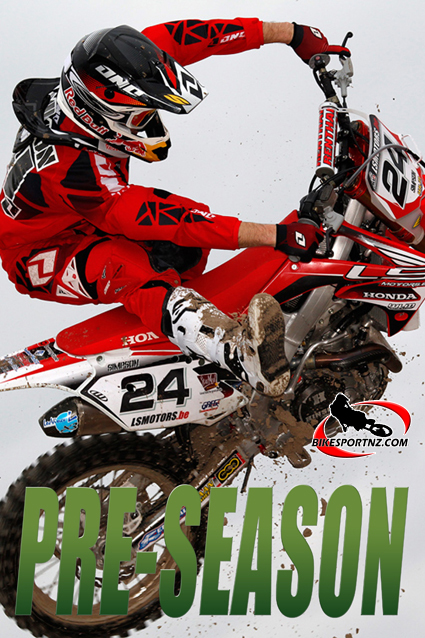 The pre-season stand-alone international motocross races may well answer a few questions about who is ready and who is not for the start of the Motocross World Championships in Bulgaria on April 10.
However, due to an unfortunate date clash, riders and teams have been forced to make a hard choice between the Valence International in France and Mantova Starcross in Italy this weekend.
However the majority of top riders, including LS Honda Racing riders Shaun Simpson and Ken De Dycker, will head to Valence this weekend for their first pre-season meeting. The spectacular hard-pack track, south of Lyon with its many jumps and tricky soil remains a great first test for men and machines.
De Dycker travelled to France a couple of days in advance and will stay in the south of France after the race to train and test with the team. The popular Belgian was a runner-up in Valence two years ago.
Valence will also mark the LS Honda Racing motocross debut for Simpson.
The MX1 rookie rode his CRF450R to victory earlier this month at the second round of the British Supercross Championship in London. And Simpson as a reputation for outstanding pre-season results, including back-to-back victories at Mantova's Starcross.
Here we publish an interview offered to BikesportNZ.com by noted international journalist and friend Tom Jacobs.
Tom: Obviously you have been working with the team for some months now, but since the first race of the season is always a bit more official we'll start accordingly: welcome to the LS Honda Racing Team! What have you been up to during winter time?
Shaun Simpson: "Thanks! It's been quite good, I had some surgery to my left shoulder in the off-season so my main priority was to come back full rested from that. So I didn't do much riding until January the first.
"I did all my base training with running and cycling. My first weeks back on the bike were at home in Scotland, it felt good to be back riding again although the conditions were far from perfect with ice and snow. Since mid-January I'm back in Belgium where I have been riding on a variety of tracks in the region. The weather hasn't been perfect there either, but overall it was fine.
"Two weeks ago I did my first race, a supercross event in London and I really enjoyed it! It was nice to start off on the Honda with a win. At this point I'm feeling fit and confident, sure I'm not in my best shape yet but I'm feeling comfortable on the bike."
Tom: It seems you're always a threat for race wins and podiums at this time of year. Is there a particular reason for your tradition of early form?
Shaun Simpson: "I think it's because I get excited! Every year I want to be so good in the first races and this year I'm not stressed about it because I know from previous years that you can win Mantova, Valence or Hawkstone Park but when the first GP is there that's when you need to been in your best shape. That's when it matters. In previous years I was maybe a little bit too psyched up already, so that's something that I needed to adjust.
"My preparation has been different all together this year, I rode and trained my own way. For now I'm going for fun, and for a good feeling with the bike, the engine and testing.
"If I win easy than I win but otherwise it doesn't matter whether I am third, fifth or seventh. Still, to answer your question in full: to be fast this early I don't need a lot of bike time. The races are only 20 minutes now so it doesn't matter how bike-fit you are. Anyway I'm feeling good!"
Tom: Is there any first-day-at-school nervousness when you go back to Valence for the first race?
Shaun Simpson: "Of course that's a part of it! You see all the other guys with new clothes, new bikes, excited fans … so for sure you want to be fast. You feel a bit nervous and excited, but I want to keep calm at the same time. I don't want to do something stupid because it's important to get some strong first races under your belt, get the bugs and nervousness out of the way. Come the first GP, than you're really ready for it."
Tom: I have never seen anyone cornering so fast like you did in Mantova last year, you must be bummed to miss that race?
Shaun Simpson: "It's tough, I really don't know why they make the races on the same day! It's a shame, I really like Mantova. There's a nice atmosphere, it's quite a small track and it holds up well in all weather conditions.
"I'm sad to miss the Starcross really, also because I won it the last two years. We chose to do Valence for several reasons. It's closer, many of the top guys will be riding there and it's also a good track. You had to choose one or the other, I'm happy with my choice. Hopefully they can work it out that next year we can first do Mantova, followed by Valence."
© Words by Tom Jacobs, www.BikesportNZ.com
© Photo by Ray Archer