Ryan Villopoto may have been down but he's ready to make his comeback.
With a season-leading seven victories and a season-long battle with Suzuki's Ryan Dungey for the championship in 2010, to say that Monster Energy Kawasaki rider Villopoto's Monster Energy Supercross season came to a heartbreaking conclusion would be an understatement.
It all came unstuck for Villopoto when the 2008 AMA Supercross Lites West Region Champion suffered a frightening crash while leading at St. Louis.
A broken tibia and fibula resulted in Villopoto's worst injury of his career and put him on the sidelines for nearly five months. The road to recovery has been a long one for Villopoto, with numerous surgeries and considerable rehab to get him back into riding shape. Just a few weeks ago, he resumed riding in preparation for the 2011 Monster Energy Supercross season.
"I've been off the bike for a long time," said Villopoto. "The way things ended last season was unfortunate. I really felt I was riding the best I ever had on the 450. I've made some changes to improve my program and now it's time to just prepare for this season and hopefully take care of some unfinished business."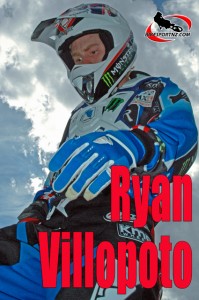 Through two years of competition in the premier class, Villopoto has yet to complete and entire 17-race season. During his rookie year in 2009, he suffered from a virus that sidelined him for three races and last season, his broken leg forced him to miss the final three rounds as well. However, in the time he has been on the track, Villopoto has proven to be one of the fastest riders in the class.
During his rookie campaign, the Washington native bounced back from his illness by capturing two of the final three races of the season. Last year, a slow start led to a surging middle portion of the season in which he grabbed seven wins in 11 races, giving eventual champion Dungey all he could handle.
"I definitely feel comfortable and confident on the 450," added Villopoto. "I know what it takes to win and I know that I can win the championship. I've just had some really bad luck the last two seasons, but I'm ready to turn things around."
Now that he's back on the bike, Villopoto will have plenty of time to dial in his Monster Energy Kawasaki and get back into race shape. No rider in the series suffered from more loss than he did last season and as a result, no rider in the championship has more to prove. It wouldn't come to anyone's surprise if Villopoto has a chip on his shoulder coming into Anaheim 1.
"I'm definitely upset with how things turned out," he said. "I really felt like I had Ryan (Dungey) where I wanted him and I was putting a lot of pressure on him. In the past he's made some mistakes when the pressure is on so I was just waiting for my opportunity to capitalise."
Villopoto's determination to redeem himself is apparent in his off-season preparation.
"I've never been more motivated and never been in better shape than I am in preparing for 2011," he added. "I want that title and I'm ready to take on everyone."
Adding to Villopoto's confidence heading into the upcoming season is the addition of longtime friend Jake Weimer to the Monster Energy Kawasaki team. The reigning AMA Supercross Lites West Region Champion is one of many rookies coming in to the premier class and the bond he shares with Villopoto will surely carry over onto the track for both riders.
"I couldn't ask for a better team-mate," said Villopoto. "Jake and I have been friends for a while and we get along really well. Training and testing with him is going to make the offseason that much better and I'm looking forward to working with him on race day."
As for putting all the pieces together and completing his first full Monster Energy Supercross season and possibly capturing his first premier class title?
"They say the third time is the charm, so hopefully this is my year," he said.
© Photos by Andy McGechan, www.BikesportNZ.com