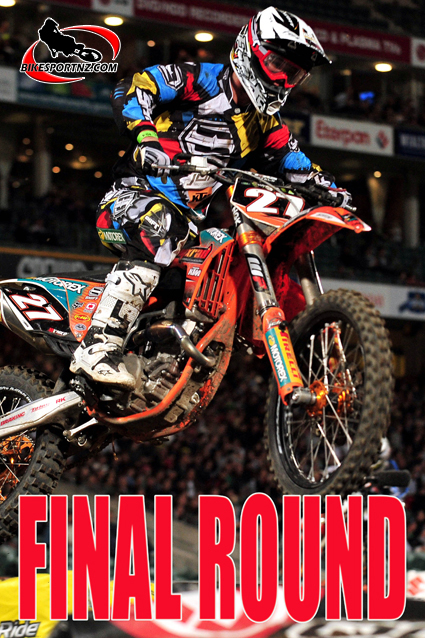 The seventh and final round of the Monster Energy Super X series is at QSAC stadium in Brisbane tomorrow night and all eyes will be on and Australian Jay Marmont and American P. J. Larsen.
American Kawasaki rider Josh Hansen leads the open class standings and Australian Suzuki star Matt Moss heads the Lites (250cc) class standings but they each know that Marmont and Larsen — the two riders in the runners-up position in the respective classes — will be on the charge at this final round.
Moss' twin brother Jake Moss (Suzuki) won the Open class at Parramatta last weekend, so the momentum has perhaps swung away from Hansen and there remains a chance that he can be beaten for the title on Saturday night.
However, with a 44-point advantage, Hansen is very much in the driving seat and another rock solid performance from him will wrap it up.
Scotland's Billy Mackenzie (Kawasaki) and last-minute entry Michael Phillips (Honda), of New Zealand, could add fireworks to the mix.
Phillips is there to replace an injured Todd Waters in the Cougar Bourbon Honda Team and, with his build-up for the New Zealand Supercross Championships in full swing, he could surprise in Brisbane tomorrow night.
Another Open class contender, KTM's Tye Simmonds, will contest his final event in Australia before moving to the United States this month in readiness for next year's AMA Supercross, an FIM World Championship, series.
Simmonds scored a season best of third in Dunedin, New Zealand, two rounds ago, and he's looking to finish out the season on a strong note aboard the 350 SX-F. The 18-year-old from Bourke in New South Wales currently sits fourth in the Open class standings.
In the Lites, anything could happen.
Matt Moss leads by just five points from Larsen, while Josh Cachia, Lawson Bopping, Kade Mosig, Ryan Marmont, Cody Mackie and Ford Dale have all been on the pace and challenging for the wins.
OPEN class top 10 championship standings:
1.      Josh HANSEN – Monster Energy Pro Circuit Kawasaki: 351
2.      Jay MARMONT – CDR Rockstar Yamaha: 307
3.      Jake MOSS – Team Rockstar Motul Suzuki: 275
4.      Tye SIMMONDS – JDR Motorex KTM: 240
5.      Daniel REARDON – Cougar Bourbon Honda Thor Racing: 232
6.      Daniel McCOY – Coastal KTM Motorex Team: 208
7.      Mike ALESSI – JDR Motorex KTM: 159
8.      Todd WATERS – Cougar Bourbon Thor Honda: 155
9.      Lewis WOODS – Top Gear KTM: 150
10.    Justin BRAYTON – Muscle Milk / Toyota JGRMX: 121
LITES class – Top 10 championship standings:
1.      Matt MOSS – Team Rockstar Motul Suzuki: 273
2.      P J LARSEN – JDR Motorex KTM: 268
3.      Ryan MARMONT – JDR Motorex KTM: 203
4.      Cody MACKIE – Kawasaki Racing Team Cool Air Conditioning: 190
5.      Lawson BOPPING – Team Rockstar Motul Suzuki: 164
6.      Steven CLARKE – Raceline Pirelli Suzuki: 156
7.      Ford DALE – Serco Yamaha: 146
8.      Josh CACHIA – Coastal KTM MX Rad: 145
9.      Robbie MARSHALL – Yamaha: 131
10.    Luke STYKE – GTYR Rockstar Yamaha: 129
© Words and photo by Andy McGechan, www.BikesportNZ.com