With his performance at Saturday night's Tokoroa Supercross, Queenstown's Scott Columb looked like a man determined to scratch the No.2 off his Suzuki and replace it with the No.1 plate … but it remains to be seen if that will actually be possible.
Columb was in a lot of pain at he stood top of the podium at the South Waikato forestry town's stadium, and it's highly likely that he may not be able to continue the series.
It finished up a Suzuki 1-2 double punch at Saturday's opening round of the New Zealand Supercross Championships in Tokoroa, Columb and Hawera-based Taupo rider Brad Groombridge (Suzuki RM-Z250) finishing on top the Lites (250cc) class, with Tauranga's Peter Broxholme (Honda CRF250) standing on the third step of the podium.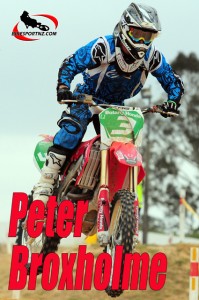 Battling drizzly conditions, the duelling at the front between Columb and Groombridge was fierce, with the two Kiwi internationals putting on a show that had the crowd on their feet.
It wasn't until afterwards, however, that the significance of Columb's performance became apparent.
The 27-year-old Columb had shown remarkable courage to battle through the pain barrier and win the night.
"I crashed my bike about a week ago and it just about blew my eyes out," said Columb. "I was in a heap of pain.
"But I dug deep and managed to win the night here. That's good," said the man who was national No.2 in this class last season.
Groombridge, the Hawera-based Taupo rider who represented New Zealand at the Motocross of Nations in Denver, Colorado, in September, was also satisfied with his showing.
"I was leading the night's first Lites race until Scotty nipped underneath me and then (Mount Maunganui's) Mason Phillips (Kawasaki) got past me in sight of the last corner. I went down but still picked the bike up to finish fifth.
"In the next race I battle through the pack to take second spot and, in the last race, I managed to get past Scotty on the last lap and held on for the win as Scotty was obviously feeling the effects of his injuries."
The second of four rounds in the series is scheduled for Taupo on January 2, with rounds to follow in Motueka (January 9) and Timaru (January 15).
© Words and photos by Andy McGechan, www.BikesportNZ.com
Full story and more photos in your next issue of KIWI RIDER magazine.