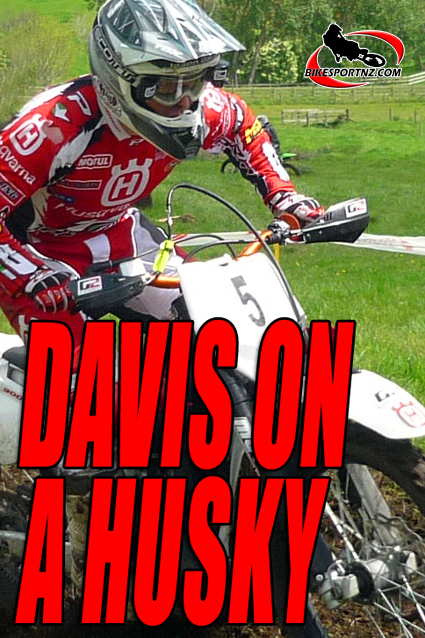 After wrapping up the New Zealand enduro title overall this year, finishing an eighth outright at the Australian Four-Day Enduro and scoring three top-five finishes in the Australian off-road series, Whangamata's Jason Davis really didn't have a lot more left to prove in 2010.
So what was there left for the likeable Davis to do? How about switching from KTM to Husqvarna?
"I got talking to a family friend and generally nice guy Mark Scott and he offered to talk to a few people in the UK for me when he went over for a quick visit," said Davis.
"As a result of this, Mick Seward got hold of my CV and he basically said 'if you want to ride for me next year I have to meet you first'. So that was my motivation to get over to the UK. I went over there two days after my last race in Aussie.
"I spent three weeks over there with Mick and got on really well with him and all his riders and mechanics. I did two races over there and got two second places. Considering the bikes were set up for other riders I was really happy, and I really liked the Husqvarna brand. It didn't take me long to realise how competitive the bikes are, which is a big thing as I have ridden KTM my whole racing career.
"So in 2011 I will be riding the new Husqvarna TE449 at British championship races and the world enduro championships, supplied by MPS Husqvarna in the UK.
"Naturally I am extremely excited about this opportunity, and am heading over in mid January to get some pre season testing in.  I am going to be based in York with the MPS team.
"I just picked up a new WR300 off Craig Brown, the manager of Husqvarna New Zealand.
"Out of the box I was very impressed with the performance of the bike and I thought to myself sometimes you are better to make your own mind up about certain bikes and how they perform. The engine was strong and useable and it was a pleasure to ride. All Craig and I did was jet the bike and it was good to go. After a bit more testing I feel I can run up front at the toughest races in New Zealand.
"I will contest as many cross country events that I can get to before the big NZ Three-Day Enduro at Maramarua in December, then it's on to the start of the NZ Enduro Championships.
"I would like to thank Richey Ebbett and Scott Brooker at Moto SR Suspension in Whakatane for helping me with getting the bike set up. They have helped me get a set up that stays up in the stroke but also unbelievably plush," said Davis.