NO TIME TO REST FOR WHIBLEY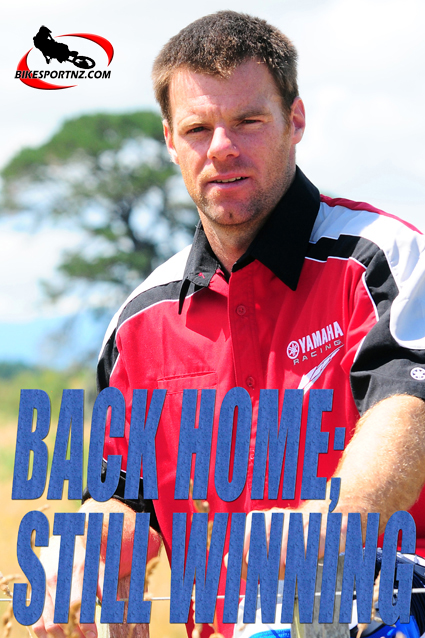 It may be the off-season now for Kiwi international Paul Whibley, but he's still seeking out as much bike time as he can find.
He had no sooner touched back down in New Zealand after another successful season spent racing the Grand National Cross-country Championships in the United States, when the Yamaha ace rolled up with his Sargent Motorcycles-sponsored YZ450F bike at the weekend's Bush Bash Twenty10 event near his home town of Pahiatua.
A long-time Dannevirke and Pahiatua native, Whibley certainly brought his A game to the Bush Bash Twenty10 race this year.
The big four-hour race, set out on the huge Waitawhiti Station property on Waitawhiti Road, just outside Pahiatua, attracted plenty of interest from New Zealand's leading off-road motorcycle racers, including another international superstar in Taupo's Rory Mead (Yamaha), and Napier brothers John and Lance O'Dea (Suzuki).
While most riders chose to form two-man combinations to share riding duties for the gruelling four-hour race, Whibley opted to ride solo, as an ironman.
"I had only just collected my new 2011-model YZ450 and lined up with the new bike on the start with the wind howling through the nearby trees, I was holding the rear guard and waiting for the shotgun blast (to signal the race start). When the gun went off, I jumped on and my YZ and launched towards turn one and straight into the lead.
"Conditions were slick on the green grass and a super strong westerly also made the going treacherous. I wasn't too excited to lead the way early on, so a few keen men took various turns up front. I led the way through the tree section out the back of the loop and pulled a lead on everyone but Rory Mead.
"With lap one completed in about 40 minutes, I continued for another lap while most others came into the pits to gas up and swap riders. I opened up a comfortable lead and rode pretty conservatively in the tough windy conditions.
"I gassed up after two laps and had a safe lead that I protected to the finish.
"The new YZ worked great and am looking forward to some more fun races in New Zealand over the summer."
RESULTS:
1. Paul Whibley
2. John O'Dea/ Lance O'Dea
3. Rory Mead/Conrad Edwards
© Words and photo by Andy McGechan, www.BikesportNZ.com